Get more from your

favorite work apps
Introducing Automations. Create and run custom workflows using some of the world's most popular software tools.
POWERED BY NATIVE INTEGRATIONS WITH THESE LEADING APPS



Using multiple apps for work quickly becomes inconsistent and messy. Even with just one tool, teammates don't always know what's been done or what to do next. Automations enables you to streamline single- or multi-app workflows into a simple, cohesive process.
Consider this employee onboarding workflow. By connecting an IT setup task with Jira, or a privacy policy signing task with DocuSign, data will be automatically ported to and from those apps at the right steps in the process, freeing your team from error-prone manual work.
Automations is our favorite Process Street feature. We've utilized both the Salesforce and DocuSign integration, which are seamless and user-friendly to set up.
Elizabeth Goodrich | Process Improvement Director at

Premier Claims
Level up your most important apps
Keep the tools you're already using. Add the reliability of a checklist.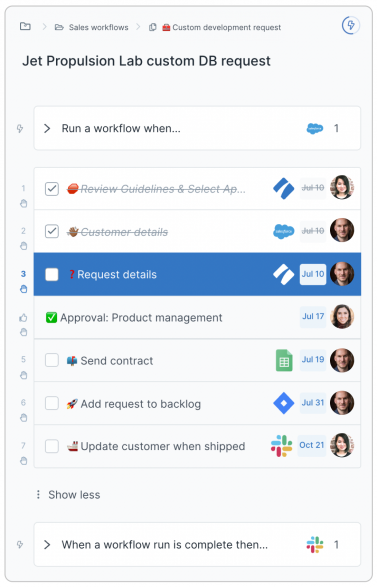 BREAK THROUGH SILOS & REDUCE REPETITIVE WORK
Build multi-app workflows into a single, consistent process
Eliminate opportunities for human error. Information can be recorded once, then sent to multiple apps, so your team can focus on work that matters. Trigger automatic events across the right apps at the right times, so work doesn't fall through the cracks.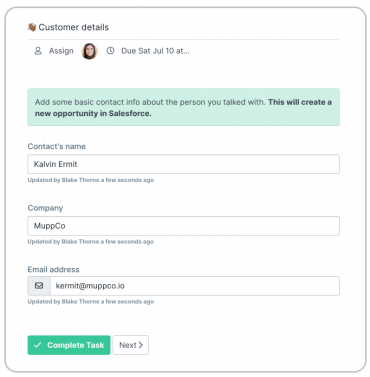 DELEGATE COMPLEX WORK, NO TRAINING NECESSARY
A simpler way to collaborate
Ever get the feeling delegating work takes more time than just doing it yourself? Add your custom instructions to each step, and use the stop tasks feature to be sure nothing's skipped.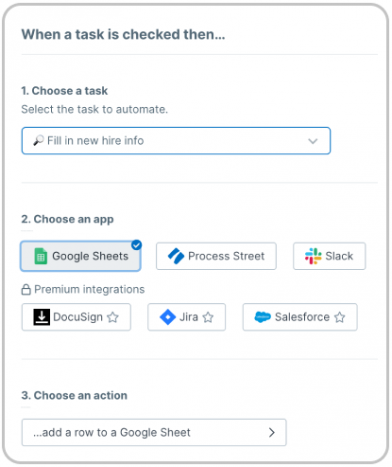 CRYSTAL-CLEAR CONFIGURATION
Powered by an intuitive, no-code workflow builder
Build powerful workflows and corresponding automations with ease. It's as simple as writing down a process. See how your automations are configured and when they're running. Set up, configuration, and visibility, all in one place!
Automations includes the ability to build connected workflows with Process Street itself! Automatically start new workflows based on the completion of a task or another workflow. You can easily string together multiple workflows into broader, more collaborative processes.
JOIN OVER 3,000 PROCESS STREET CUSTOMERS





Start using Process Street for free and combine the power of your favorite work apps!
For everything else, there's Zapier
Don't see your app of choice in automations yet? You can still use our Zapier integration to connect your workflows with thousands of other apps. Automations and Zapier can even work together in the same workflows.
Got questions? Speak to our team for a demo
Our world-class team of process and automation specialists will guide you to the perfect solution. From simple conditions to complex, multi-system, multi-departmental workflows, we'll help you streamline your operations, and we'll help you do it with the existing applications you use every day!
Supercharge your workflows and level up your favorite work apps with Process Street