Vendor Onboarding Software for a Strong Strategic Supply Chain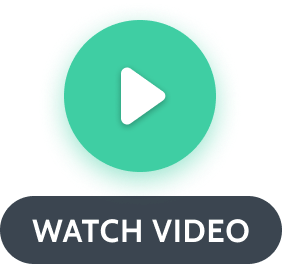 Engage, track, & manage vendors with one tool!
JOIN OVER 450,000 PROCESS STREET USERS



Master vendor onboarding for optimized supply chains that pay for themselves…
Work with the best vendors & get the best deals with Process Street's vendor onboarding software!

Join departments together by creating vendor onboarding processes. Work as a team to approach the right people at the right time, and get the right deal.

Use vendor onboarding software to automate your tedious manual processes and free up your team's time so they can focus on more important tasks.

Continuously improve your vendor onboarding workflows by documenting your processes and identifying bottlenecks, errors, and inconsistencies.
Wave goodbye to mistakes! Use our vendor onboarding software to create standardized vendor onboarding processes that your team can follow every time.

Our vendor onboarding software is your single source of truth. Create onboarding processes, collect data, store it safely in the cloud, and access it at any time.

We definitely love Process Street. Not only has it allowed us to save days in time, it's improved employee happiness and helped us to save over $1m in operating expense!




Pam Levin, Innovation Manager, Elite Business Ventures, Inc.
Learn how to optimize your vendor onboarding processes with Process Street: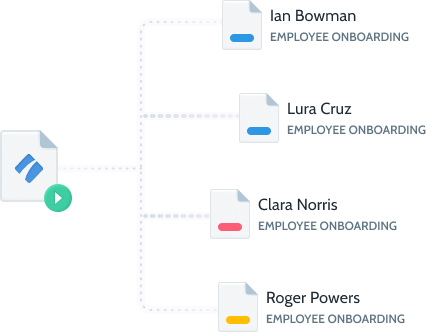 Optimize your vendor onboarding workflows
Use our vendor onboarding software to either create vendor onboarding processes from scratch or edit one of our existing pre-made templates. Our user-friendly drag-and-drop editor makes customizing templates quick & easy.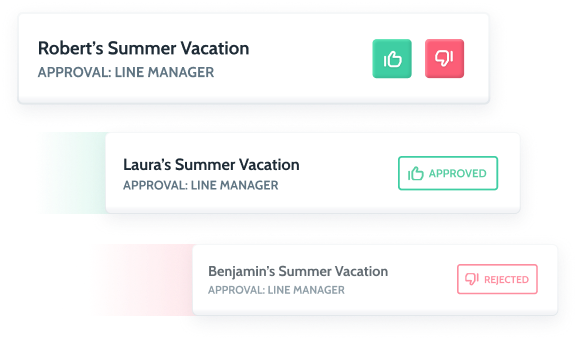 Make important onboarding decisions in seconds
Avoid costly bottlenecks and add Approval tasks to your vendor onboarding processes. Approval tasks mean key vendor decisions can be approved or rejected at any time, in any place, with the click of a button.
Collaborate to create robust vendor intake processes
Work together to create and follow effective vendor onboarding processes. Build processes, share them with your team, assign tasks, and work together to make your vendor onboarding processes run as smoothly as possible.
Automate vendor onboarding processes to save time
With our vendor onboarding software, you can connect to over 2000 apps to automatically share data, schedule workflows, update checklists, and assign tasks with one swift click of your mouse.
Add structure to your vendor onboarding workflow
Drag and drop form fields into your vendor onboarding workflows to create structure and dictate the type of data you require. Collect vendor information, store it safely in the cloud, and access it anytime from anywhere.
Create interactive onboarding processes that adapt in real-time
Use Conditional Logic to dictate the direction you want your vendor onboarding processes to go in. Powerful if/then logic can turn a single template into a dynamically versatile one that meets multiple different requirements.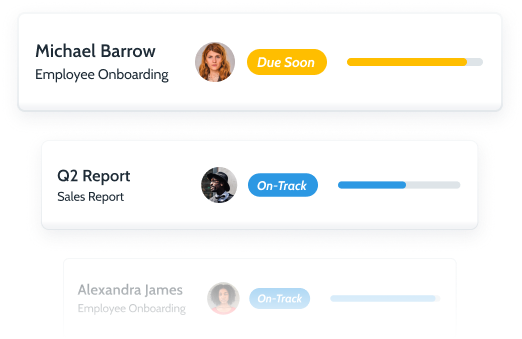 Stay on top your vendor onboarding processes
The Checklist Dashboard allows you to see all your active vendor onboarding processes in one single place. Track your team's progress, spot possible issues, and take advantage of potential opportunities.
Secure solid suppliers. Vet & validate vendors with Process Street.
Sebastian Igreti
CEO, TechMD
TechMD uses Process Street for all core processes including employee onboarding, active directory management, and workstation repair processing.
Their team relies on our platform for managing day to day core business processes and operations.
WATCH CUSTOMER VIDEO
Clive Bertige
CEO, Mailine Automotive
Mainline Autobody manages its core repair and insurance processes on Process Street. The team uses them to onboard and train new employees, create procedures for quality control, and to improve visibility across their operations.
With Process Street they are able to create, track, optimize and automate their standard operating procedures.
WATCH CUSTOMER VIDEO
Use Process Street for ALL your vendor operations, logistics & workflows...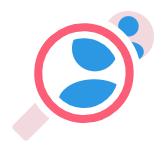 Teams around the globe 💙 Process Street. Here's why
"We could have created a traditional playbook in MS Word, but we wanted something more action-oriented. We want everyone to feel they are responsible for executing on something rather than just reading something."
Jeremy Smith
DIRECTOR PRODUCT DEVELOPMENT
"An elegant, yet efficient, checklist tool! I love the overall design and the simple way that you can update or change a process. You can tell how much thought went into things like click reduction and ease of use."
Matthew Kelley
PRESIDENT
"We have recently plugged Process.st in as our top level process management tool. It is a seamless fit into our already existing project management software and allows us to track individual project processes without being weighed down by unnecessary features."
Gil Snir
CEO
"Awesome product. The guys have put huge effort into this app and focused on simplicity and ease of use. The product oozes quality. Nice one."
Paul Clifford
CEO
Use our pre-built templates & start streamlining your vendor onboarding workflows today!
Get started right now! Access our template library and use our pre-made templates for all your vendor onboarding processes.
Vendor Management: Supplier Evaluation
This Supplier Evaluation template has been designed to help you thoroughly vet and validate your potential suppliers. Use it to choose the vendor that communicates the best, gives you the greatest deals, and can offer you the highest quality service. The template has been created using form fields which will allow you to capture and store key information and keep track of multiple supplier evaluations from one place.
Procurement Process Checklist Template
Although your procurement process will be influenced by your size, industry, available human resources, and organizational structure, this Procurement Process Checklist Template will give you a complete procurement process that you can adapt to suit your needs. It will explain how to identify the true needs of your organization, find the perfect supplier to fulfill those needs, and negotiate contract terms and pricing.
Got questions? Ask away at our monthly webinars
REGISTER FOR OUR WEBINARS
Our monthly webinars cover a whole range of topics and provide you with the perfect opportunity to ask our team any questions. Speak to the experts and get the answers you need.
A boldly brilliant business blog!
Actionable, informative, exciting … What else could you want from a business blog?
Read this to learn how to implement a solid procurement process that ensures your goods and services can always be secured, no matter what happens.
Create a quality management plan to keep a close eye on your suppliers and what they're producing. If you don't, you could lose money, customers, and face.
Running onboarding processes when working remotely is entirely different from running them in a traditional environment. Read this blog for the top tips and tricks!
Our video library will show you how to use Process Street's features to supercharge your vendor onboarding workflows.
Watch this to get a complete overview of what Process Street is and how you can use it to create vendor onboarding processes.
Take control of your vendor onboarding processes and use Approval tasks to ensure key decisions are made quickly.
Learn how to simplify and streamline any complex vendor onboarding processes by using powerful if/then logic.
Creating & Editing Templates
New to Process Street? Need a refresher? Watch this and learn how to create and edit your vendor onboarding templates.
Find out when you need to create vendor onboarding templates and how you can run individual checklists from these templates.
Use Stop Tasks to make sure your team is following your vendor onboarding processes as intended, every single time.
Onboard the right suppliers the right way every time with Process Street