The email widget lets you put customizable pre-written emails into your templates which can either be used as examples or actively sent at the click of a button.
Plan: The email widget is available on all plans.
Users: In order to add the email widget to templates, you must be an Administrator or a Member who has been given 'can edit' access by your Administrator.
---
How to use the email widget
To use the email widget you must be editing a template. Do this by clicking the cog next to a template's name in your dashboard, then clicking "Edit this template".
Navigate to the task you want to add an email widget to, then click or drag the 'Send Email' widget button at the bottom of the right-hand widget menu.
The important thing to understand about the email widget is that when you run a checklist off of a template that has an email widget, users will NOT be able to edit its content. They will only be able to press the 'send' button.
This means you need to populate the email widget with all of the necessary information such as the recipient, anyone to be CC'd or BCC'd, the subject line, and body before you save the template.
You can also have this information entered as variables that will change based on form field responses in the checklist, we have addressed this below.
Take a look at the complete email widget in action below.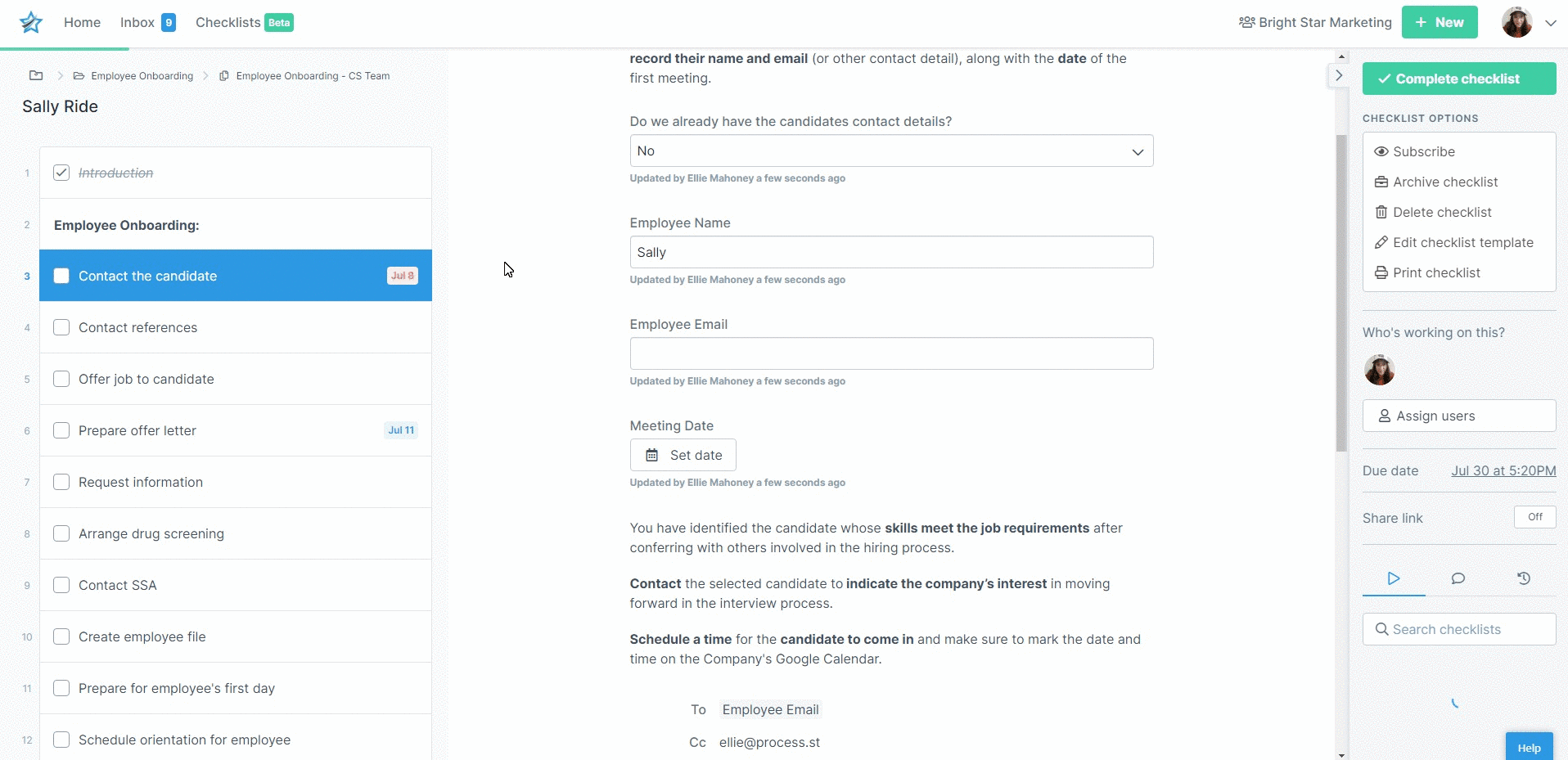 Using variables with the email widget
You can use variables in email widgets to push in information from other sources.
For example, if you have a form field set up for capturing a candidate's email address, you can push that email address straight into your email widget and save yourself the trouble of copying it over manually.
To insert a variable into any of the fields in an email widget, go to the edit view of your template, locate the email widget, then click the magic wand (variables) icon next to the field you want to populate.
Then just search for or click on the variable you want to have pushed in.
Note: Each mail client has a different character limit. E.g. Outlook has a limit of 1076 characters. If you'd like to send longer emails, consider using Zapier to trigger an email.
---