You can integrate Poptin with Process Street using Zapier.
This allows you to create workflow runs when new leads are logged in Poptin. For example, Poptin can use highly targeted popups to funnel leads into a closing the sale workflow in Process Street.
Use case:
A digital agency uses Process Street for their sales process and wants to get more leads and sales
The company wants to automate the process for closing a sale by automatically running a workflow for closing the sale when a highly qualified lead is added in Poptin
Plan: This integration is available to customers on all plans.
Users: In order to create an API key for integrations, you must be an Administrator.
Process overview:
We will create a Zap in Zapier
We will create a trigger for the Zap for each time a new lead is created in Poptin
We will create an action for the Zap to create a new workflow run in Process Street
Let's get this set up!
Creating a Zap in Zapier
Zapier is a tool that connects over 1,000 different apps. Any action in any of the supported apps (like forwarding an email or adding an attachment to a task) can be set up to trigger another app's features automatically. Zapier integrates with both Poptin and Process Street.
The whole recipe (trigger + action) is called a Zap.
Log into Zapier or create an account, then click 'Make a zap!'
Setting up Poptin as a trigger in Zapier
After you've created your new Zap, the first step is to choose a trigger app. Search for "Poptin" and select "New Lead" as the trigger.
Now you need to link your Poptin account with Zapier. Find your API key by going to the Profile page of your Poptin account, and copying it from the field there.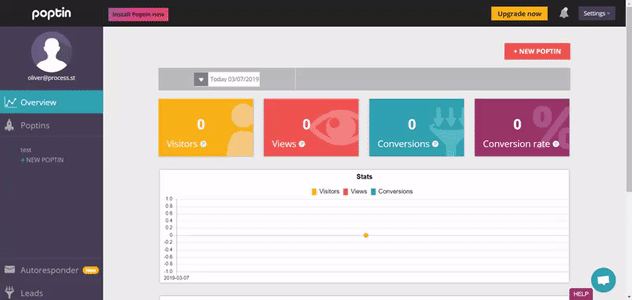 Next you need to set up a Poptin, which is another name for one of the templates Poptin uses.
On the Poptin dashboard, click "New Poptin", either on the left panel or in the middle of the screen:
There are a bunch of templates you can choose from:
Pick one that suits you, and hit "Customize". From here, simply fill in the fields appropriately:
Finalize the design elements and hit "Next":
Finally, choose some rules to govern how your Poptin is displayed, and hit "Publish".
Once you've created your Poptin, jump back in Zapier, refresh the fields, and select it:
After you've selected the Poptin you want to use as the trigger, Zapier will pull in some samples to test whether it's working.
When you get the confirmation, we can proceed on to adding the action step in Zapier.
Setting up Process Street as an action in Zapier
Hit "Add a Step" in the left panel, select "Action/Search", and look for "Process Street".
Proceed to select "Run Workflow" as the action:
Now you'll be prompted to select your organization inside of Process Street. If this is your first time using Zapier with Process Street, you'll need to input your Process Street API key, which can be found in the "Settings & API" tab of the organization you wish to add.
Just click the "New API Key" button and copy the code into your clipboard.
Now, return to Zapier and click "Connect An Account" and input the API key you just created when prompted.
Now set up the Process Street workflow that will run when the Zap is triggered. Since our goal here is to get more high-quality leads and increase sales, something like this workflow for closing the sale would be ideal.
Here it is as an embedded Process Street workflow:
You can either grab that workflow for yourself from the link above or create a similar one for yourself.
When you've chosen the workflow you want to use, input the necessary fields into the setup page and click the "Continue" button at the very bottom of the page.
Testing the Poptin integration
You're nearly done! Click "Send a Test to Process Street" to make sure the Zap is working:
Hopefully, you'll then see something like this:
…and that's it! Just hit "Finish", and turn the Zap from "OFF" to "ON".
Don't forget to give it a name, as well.