You can schedule checklists ahead of time, to have checklists run automatically for you for upcoming or recurring events.
For example, an office cleaning checklist would be set to run every week or so whilst an employee onboarding checklist could be scheduled for the date you're onboarding your next new employee.
Users: To be able to schedule a checklist you must be an Admin or a Member with either "Can edit and run", "Can view and run" or "Can view own and run" permissions. 
How to schedule a checklist
There are two ways you can schedule a checklist, from your template dashboard or from a template's menu.
From your template dashboard
Click "Templates" at the top of your screen to access your template dashboard, and then click "Scheduled" on the left side of your screen.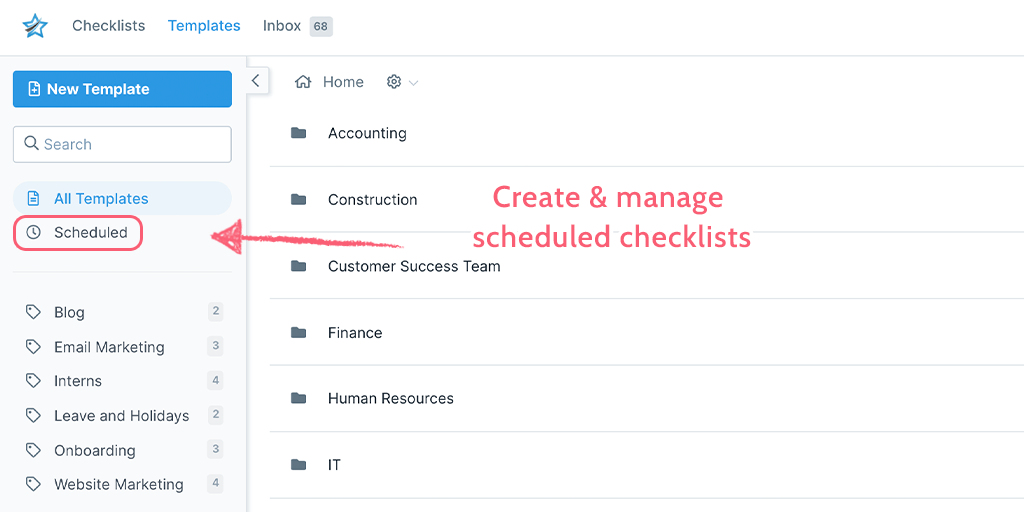 If you've not scheduled any checklists before, you'll be prompted to do this by clicking the blue link in the center of your screen.
If you already have some checklists scheduled, you can click any of the grey cards you see, to "Schedule another checklist", as shown below.
Note: to manage scheduled checklists once they have been set up, this is where you can do that. Learn more about how to do this below.
From a template's menu
You can also schedule checklists on a template by template basis, by opening up the template menu.
Head to the template you want to schedule a checklist from, and click on the three dots next to its name. This open up the right-hand menu, from where you can click the "More options" button.
Finally, click "Schedule checklist" to open the schedule manager.
In this view you can set the specifics of your scheduled checklist, such as:
The template the checklist runs from
The checklist name
The users (or groups) assigned to the checklist
Whether it's scheduled to run one-time or on a recurring basis
The timezone the checklist will be run in
The start date
The due after or due date
Once your options are set, take a look at the summary at the bottom of your page to check everything is set up correctly, then click "Schedule" to finish. Your checklist will run automatically on the date/dates you have set.
Learn more about different ways to run checklists.
---