We recently had a major overhaul of our pricing and landing page and wanted to get a good idea of what a high-converting pricing page looked like. We turned to the experts.
There are a lot of best practices for SaaS pricing pages out there, with giants like HubSpot, ConversionXL and SixteenVentures being the authorities.
I thought the best way would be to look at the pricing pages of the SaaS 250 — a list compiled by Montclare of the most successful SaaS products in the world.
To see this data in the form of an infographic, you can skip straight down to the bottom on this page.
Before we start — why did 80% of companies not have pricing pages?
Before jumping right in, it's interesting to note that of these 250 companies, only 48 had pricing available. The rest had pricing available on request by contacting the sales people.
Jason Lemkin, CEO and Co-Founder of EchoSign, says that most companies have a very good reason for this. Writing on Quora, he outlined 5 key reasons you might be better off not showing pricing on your website.
Deals will get more complex as you grow. Some day you'll do a deal so large and complicated it wouldn't have been able to be expressed in $/user/month. Products with integrations and add-ons will be priced so confusingly, it's simpler to just get them on the phone to sales.
Discounting will become difficult. With a preset rigid pricing structure, you'll put off enterprises. Jason says "Your champion will require a discount. Then, it will get sent to procurement. Procurement's bonus will be tied to the next discount they win. If you have rigid pricing, you'll blow the deal."
A $700k deal is sold differently to a $100k deal. When it means the difference between an everyday deal and a huge account, you're going to treat the customers differently. Pushing both down the same track is risky because you want to make sure that the big customers are on the phone to sales straight away.
Enterprise customers just want to buy. Jason says that price doesn't matter for enterprises. More than 80% of the time, they just want to get set up with a solution as efficiently as possible. Price comes after features.
Looking as if you're 'all about price' is a bad look. Pricing can make your product look cheap, and not enterprise-oriented. Jason says, "If your competitor says "Call Me" and appears more or equally enterprise-grade and trustworthy — your transparent pricing may say "cheap". "
So, 202 of the SaaS 250 have good reasons for not being transparent with their pricing. Let's look at what I found when analyzing the SaaS pricing pages of the remaining 48.
The study's highlights
Granted, there is quite a bit of data here. Here are the highlights of the study to make it easier to get some perspective.
The average number of packages is 3.5
Only 50% highlight a package as the best option
Just 69% of companies sell the benefits
81% organize prices low to high
38% list their most expensive package as 'Contact us'
The most common call to action is 'Buy Now'
36% don't use a contrasting CTA color
63% offer a free trial
Just 4% of companies offer pricing on a sliding scale
81% of packages are named
Only 6% show a money back guarantee on-page
Now for a detailed dive into my findings and some great examples of pricing pages for your inspiration.
The average number of packages is 3.5
My results show that the number of packages ranged from 1 (New Relic's Mobile product) to 10 (GitHub), with the most popular choice being 4 different packages to choose from.
Why?
Because customers are paralyzed by choice. HubSpot's fantastic article about decision fatigue included a study which showed customers who were presented with 6 options instead of 24 were 10 times more likely to buy.
The same logic applies for feature lists longer than Infinite Jest — if someone has to read a 50-row spreadsheet before they can figure out the difference between plans, they'll become confused, tired and rethink their decision to buy. That's why you should cut the options down as much as possible, as well as only listing features that are relevant and the benefit of which is easily conveyed to the potential buyer.
Here's a concise pricing table from LivePerson, giving visitors an at-a-glance overview of the features and prices available:
Only 50% highlight a package as the best option
ConversionXL's article 10 Principles of Effective Pricing Pages notes that the best pricing pages highlight one particular package as the best option. Why? Well, there are a few reasons, some more sneaky than others.
By highlighting the most profitable plan, you would generate more revenue.
By highlighting your most expensive plan, it acts as an anchor — a standard all visitors will set their expectations by. When they see 2-3 other plans much cheaper than the first one they saw, visitors will believe them to be cheap in comparison, and more likely to convert.
"Sneaking" your most profitable plan in the middle of your pricing page means that more visitors will click on it because people generally prefer something in the middle.
The way Freshbooks highlights their middle option is interesting, and beautifully designed:
Just 69% of companies sell the benefits
You'd think that the biggest SaaS companies in the world wouldn't have to be reminded to 'sell with benefits, support with features'. It's the most basic rule of copywriting.
Very few people care about your multi-band high-gauge ultra-optimized whatever-it-is, but they will care that it can make them more money or make their lives easier.
Zendesk's pricing page shows the benefits of each package for each persona it's aimed at:
Side note: 'Essential' is a reasonably popular name for low-priced packages, but not nearly as popular as it should be. It describes the product well (the bare essentials) but also hints the product is a must-have.
81% organize prices low to high
The eye scans left to right just as we expect prices to escalate from left to right. When prices are unevenly displayed, it can throw us off balance a little. Is that a bad thing? Lincoln Murphy from SixteenVentures thinks not.
A left to right, high to low approach seems to provide a statistically significant lift every time.
This works in the same way as highlighting your most expensive package — it provides a price anchor for customers to use as a reference point and determine how 'expensive' or 'cheap' your other packages are.
When selling someone a product, it's been proven that starting with a more expensive product then working your way down to a cheaper one makes the customer more likely to buy a higher priced product because it skews their perspective of how much something 'should' cost.
Lincoln would argue that Bill.com, and 81% of the analyzed companies, are doing it all wrong by displaying their prices low to high.
38% list their most expensive package as 'Contact us'
As Jason Lemkin has pointed out, the more expensive a product is, the more complicated the sales and discounting process is. Instead of listing a large fixed price for enterprise customers, SaaS products should opt for a 'contact us' or risk blowing big deals.
In the interest of keeping it simple, 'Contact us' sometimes is the best option. It can avoid pricing structures like this:
$400/user/month + $200 for 10,000 contacts then $150 for 10,000 after that, and an optional full setup fee of $4500 (depending on the amount of contacts, users and how much sleep your sales rep will get).
Here's an example of this structure (and a lot of complexity avoided) from Hightail:
The most common call to action is 'Buy Now'
This is a weird one. More than a quarter of the companies analyzed used 'Buy Now' as their main call to action (CTA).
It's weird because split-test veteran and ConversionXL founder Peep Laja says "I yet have to see a test where 'buy now' performed better than the alternatives ('add to cart', 'get started', 'choose plan' etc)".
Are these companies just too big to care?
The most popular CTAs were, in order:
Buy Now (27%)
Sign up (23%)
Start your free trial (8%)
TRY (6%)
Contact Us (4%)
Other — including oddities like 'More info' and 'Fill out the form' (32%)
Here's an example of Xero using the popular 'Buy now' CTA:
36% don't use a contrasting CTA color
The famous red button test by HubSpot saw the company improve conversions on Performable's pricing page by 21%. How? By changing the CTA button color to a contrasting one. Performable's main color was green, so having a green button wasn't standing out as well as it should. As the only eye-catching color on the page, the red CTA made a big difference.
Dropbox's CTA is the same color as its logo and main brand color:
While Box uses an eye-catching green CTA to compliment it's blue brand color:
63% offer a free trial
While a free trial is an extremely important part of a product's funnel, only 63% of companies analyzed offer it.
According to Pierre Lechelle, SaaS free trials are often misunderstood by their providers who don't understand how giving away something for free boost revenue. In the case of the SaaS 250, however, it's understandable.
For products which cost more per month than an average salary, it makes more sense to treat the customer to a little concierge onboarding by offering a demo and a sales rep willing to talk endlessly about the benefits and get the customer set up properly.
This is a great alternative for complex products which need a high-touch approach because if you let the CMO of General Electric play around inside your product without the most helpful 1-on-1 guidance, you'll be pissed when they go
no further than the trial.
Just 4% of companies offer pricing on a sliding scale
Sliding scales allow customers to be ultra-specific with their needs and pay for only exactly what they're going to use. Plus, according to Peep Laja, giving users something to play around with will keep them sticking around for longer and subconsciously soaking in the details and pricing of your product.
Atlassian's BitBucket uses a slider as a way to simplify their pricing to the extreme, and as another way of saying $1/user/month or $200/month for unlimited users.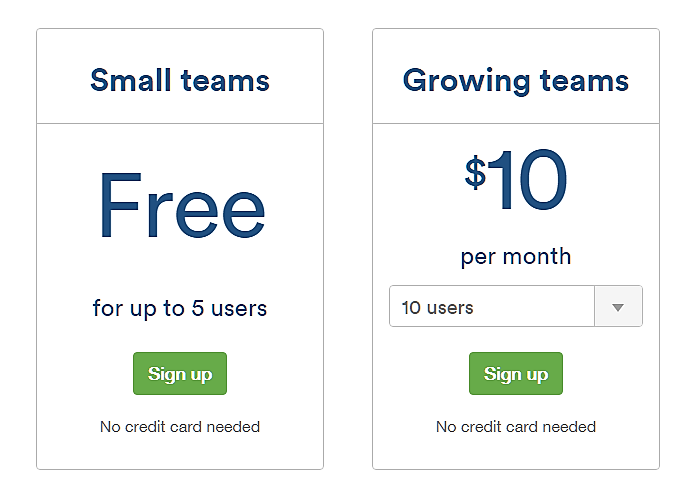 81% of packages are named
PriceIntelligently suggests you create one package for each persona you're selling to.
It's no use targeting a persona if they don't realize they're being targeted and can't work out which package would be best for them. That's why companies like Huddle name their packages based on the kinds of businesses they'd be good fits for.
Here's an example from Huddle, who (unlike companies who offer 'Lite', 'Pro' and 'Pro+') are pretty specific about personas.
Only 6% show a money back guarantee on-page
Why do so many companies not want to reassure their customers?
There are two sides to the argument.
One is that it quells your buyer's fears of 'what if this won't work for me'. The other is that it conveys the message that they might need to cancel (or that your company is used to being cancelled on so has a system in place when it happens).
Abscense of money back guarantees amongst the SaaS 250 could be because plenty of the products offered lock you in for a year (one I saw even did it for FIVE), or already offer 30 days free trials in place of a 30 day money-back-period. I'd be willing to bet that it's mostly a case of not wanting or needing to provide such an offer.
Here's one of the rare cases from Constant Contact:
What can this teach us about SaaS pricing pages?
This shouldn't teach you not to offer pricing on a sliding scale because only 4% of the most successful SaaS companies does it.
It also doesn't mean you need to cut your price packages down to 4 (or 3.5) because that's a secret number that makes people buy even if they aren't interested.
What this really means is that there are a lot of different standards.
Even the most successful SaaS companies in the world don't conform to the 'best practices' laid out by conversion specialists.
That's because they each have different audiences. Maybe your customers are longing for a massively detailed feature list, or CTA copy which reads 'Buy Now'.
The only way to find out is rigorous split-testing! And we thought it'd be as easy as looking at what the most successful SaaS companies are doing…
Here's the infographic version I promised at the start of the post:
This infographic was made with the Infographic maker Venngage.
Use the box below subscribe to the Process Street blog for more insights like these, every Tuesday and Thursday.