Podcasts are an awesome way to passively expand your knowledge, especially while you're walking, in the car, on the train, or doing work that doesn't require a ton of mental energy.
At Process Street, we've compiled a list of podcasts that we personally listen to and would recommend to anyone interested in business, entrepreneurship, marketing, and startups.
#1 Business Systems Explored
While a lot of podcasts focus on high-level advice and lengthy unrelated stories about founders' lives, Business Systems Explored is different.
It's about the exact processes some of the top startup CEOs and businesspeople use to get work done, systemize their companies, make sales, hire developers, and more.
Make sure to subscribe on iTunes to get the whole back catalog and be the first to download the upcoming season 2 when it's released.
#2 The Startup Chat
The Startup Chat is hosted by two serial entrepreneurs: Steli Efti (CEO, Close.io) and Hiten Shah (Co-Founder, Crazy Egg & Quick Sprout).
In weekly episodes, they discuss the issues startup founders face and how to overcome them, including topics like sales tactics that no longer work, and managing your team vs. totally controlling them.
#3 Entrepreneur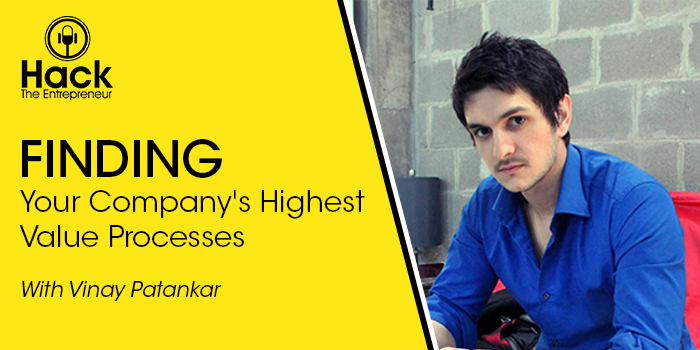 a target="_blank" href="e Entrepreneur — an interview show with founders by Jon Nastor — follows a predictable format with every episode, making it easy to see links and parallels between the behavior of different successful entrepreneurs, and easy to work out how to replicate the formula.
Find out the one thing that founders think is the biggest contributor to their success, and one 'hack' — the most vital piece of information shared in the interview. Listen to the interview with our CEO, Vinay, here.
#4 Slack Variety Pack & Podcast
Slack has two podcasts: the Slack Variety Pack — a selection of stories that can teach you about work and business — and Work in Progress. Work in Progress is a podcast detailing the human stories behind amazing business and personal successes, like how a fugitive slave founded Toronto's first taxi company.
#5 Product Hunt Radio
Product Hunt is the reddit of startup products. Every day, a handful of hot releases are featured, and the Product Hunt Radio podcast discusses those products with makers, investors, and members of the startup community.
If you want to hear scrappy startup founders sharing their story of ideas, product development, and marketing, Product Hunt Radio is the podcast for you.
#6 VentureBeat's What to Think
While VentureBeat has stopped making new episodes of What to Think, there are 65 in its back catalog, spanning between 2014 and 2016. What to Think is a summary of the week's tech news developments and what that news means for the startup ecosystem, summarized in the first 5 minutes and then followed by an in-depth discussion.
#7 a16z
Andreessen Horowitz is a venture capital firm that's invested in everything from AirBnB to Slack. The a16z podcast is hosted by a variety of partners at the firm and consists of interviews with key players in Silicon Valley and beyond. Standout episodes include the one embedded above with Google's product director Luke Wroblewski, and Christina Xu's episode on internet culture.
#8 The Twenty Minute VC
Hosted by entrepreneur and investor Harry Stebbings, The Twenty Minute VC interviews startup founders from an investor's perspective and talks about securing funding, developing products, and fostering growth. Like many other business podcasts, it has an interview format. However, The Twenty Minute VC is short enough to listen to on a short commute and cuts straight to the point with the key information.
#9 StartUp Podcast
Gimlet's StartUp Podcast is more than an interview show. It's more akin to a narrative, report, or spoken essay, with every episode exploring a different aspect of business, often with an academic, cultural, historical, or perspective. Like Slack's podcasts, StartUp is exceptionally well produced and runs like an audiobook with careful attention given to background audio, sound effects, and edits. If you're looking for investigative material about the realities of business, StartUp is exactly that.
#10 Mixergy Startup Stories
With over 1,400 episodes (and counting), Mixergy's podcast is as much a complete database of entrepreneur interviews as you'll find on the internet. Several episodes are released weekly, each around an hour long and packed with information. Key episodes include the interviews with Wade Foster, Patrick Campbell, and Neil Patel.
#11 The Pitch
Interested in the validity of startup ideas? The Pitch explores exactly that, with real audio from founders pitching their startups to investors.
The Pitch is a masterclass in validating ideas, selling your product, and winning over investors. And, even if you're not at the pitch stage for your product, it's still filled with information that you wouldn't otherwise have access to.
#12 #AskGaryVee
#AskGaryVee is the show where serial entrepreneur Gary Vaynerchuk answers questions from his listeners in short weekly episodes. With topics ranging from Snapchat's branding to when to quit your job to start a startup, there's a broad range of knowledge to be gained from #AskGaryVee.
#13 Product People
It's not just product teams that should show an interest in how products evolve and make money — it's anyone in business.
Looking for a starting point? Listen to Product People for interviews with niche experts like Samuel Hulick on user onboarding, and Des Traynor on making viral products.
#14 Marketing for Owners
How do you find time to work on your marketing when you're trying to build a product, manage a team, and keep up with all the admin work that needs doing?
Jon Butt answers this question in his podcast Marketing for Owners, which focuses on building automatic marketing systems for your business so you can spend time on more important work (or on the beach). Marketing for Owners alternates between short episodes where Jon gives tips, and long-form interviews with businesspeople like Rand Fishkin and Vinay, our CEO.
#15 ProBlogger
With the rise of content marketing, it's getting to be a necessity for every startup to be its own media company as well as whatever it's building.
Australian blogger Darren Rowse shares tips and stories of his own journey from a tiny blog that only his wife read to one of the most popular and profitable affiliate marketing blogs on the web.
New bloggers should start with his 31 days to build a better blog challenge episodes, which walk you through setting up and optimizing a blog that's engineered to get traffic and subscribers.
#16 The Productivity Show
Staying productive is key for small teams and entrepreneurs because there's nothing worse than wasting time in your vital early days; it burns money, and gives your competitors time to get ahead.
With Asian Efficiency's Productivity Show, you learn how to manage your time effectively, delegate work, make better to-do lists and improve your health.
#17 IdeaCast
With interviews with everyone from Harvard professors to Jerry Seinfeld, IdeaCast is a valuable archive of material from some of the world's best minds, especially since it's created by the Harvard Business Review. Stuck where to start? The 400th episode rounds up some of the best so far, and will give you an idea what to expect from the back catalog.
#18 Call to Action
Unbounce's Call To Action is a digital marketing podcast that goes deep into the art and science of conversion with interviews from top marketers. It takes a novel approach, and is surprisingly listenable for what is essentially a super-specific exploration of the different elements of conversion rate optimization.
#19 SaaStr
Featuring interviews with some of the smartest minds in SaaS, the SaaStr podcast is a must-listen for any tech business. It's hosted by Harry Stebbings of The 20 Minute VC, and is currently over 90 episodes deep.
A good place to start is this two-part interview with David Skok of Matrix Partners.
#20 Smart Passive Income
Smart Passive Income is one of the most popular business podcasts there is, with over 33,000,000 downloads. That's for good reason, too — SPI is the quintessential blueprint on making money with affiliate marketing, so if that's your niche as an entrepreneur, you've got to subscribe to this.
For proof the systems Pat unpacks in his podcast work, check out his monthly income reports.
#21 Entrepreneur on Fire
The host of Entrepreneur on Fire, John Lee Dumas, is a relentless machine.
He kicks out an interview for every day of the week, and is now over 1,500 episodes in. That's 1,500 interviews with some of the world's top entrepreneurs. If you're ever feeling unenthusiastic about your business, let John give you a burst of motivation with his hyperactive, excitable attitude and tales of success.
#22 Inside Intercom
Focused on design, product management, marketing and startups, Inside Intercom is a weekly podcast that interviews SaaS royalty like Michael Pryor and Jason Fried, alongside user interaction specialists like Hugh Durkin.
Inside Intercom isn't just for product teams and designers, but has insights worth hearing for everyone in business.
#23 Go for Launch
Hosted by Brandon Uttley, Go For Launch is a podcast for startups and new businesses with advice on how to get the most out of your resources when you're just starting out.
Every week Brandon shares information on everything from process management to staying fit. If it helps founders, it's covered here.
#24 Y Combinator: How to Start a Startup
When you go into Y Combinator, these are the talks you attend. Delivered at Stanford University, these are the exact set of lectures that have made so many of the Y Combinator alumni successful. It'd be silly to miss out on that, so make sure to download the whole back catalog.
Lecturers include Sam Altman, Dustin Moskovitz, Paul Graham, Adora Cheung, Peter Thiel, Alex Schultz, Kevin Hale, Marc Andreessen, and more.
#25 Tim Ferriss Show
Tim Ferriss is the author of The Four Hour Workweek, and the host of an essential business podcast, The Tim Ferriss Show. In this podcast, Tim interviews important figures like Silicon Valley journalist Kara Swisher, investor Chris Sacca and author/speaker Seth Godin.
#26 Autopilot Your Business
Learn how to develop 'set it and forget it' marketing systems, write better copy, and run a global team with Autopilot Your Business.
Autopilot Your Business covers many of the basics of marketing you need to know, plus goes deep on topics like management and automation which makes it great for marketing teams and CEOs alike.
#27 Developer Tea
Developer Tea comes from spec.fm, a prolific creator of design and development podcasts. Made to fit into your tea break, Developer Tea episodes are just 10 minutes long each, so you can always use your downtime — no matter how short — to listen to interviews, project management tips, and productivity advice for developers.
#28 a target="_blank" href="e Process
At Process Street, we love hearing about exactly how companies run their systems because we created our app to solve many of the problems people in business face when they're setting up and optimizing processes.
a target="_blank" href="e Process is a podcast that goes deep into specific business systems, such as sales, setting up a startup, and blogging.
#29 The Foundation
The Foundation is a podcast that's laser-focused on picking apart the earliest days of businesses from the point of view of almost 200 successful founders and counting.
As it's got bigger, it's landed guests like Pat Flynn and Jon Lee Dumas while maintaining its focus on starting a business from scratch. Check out clips of the podcast on their YouTube channel or subscribe on iTunes.
#30 PR is Dead
Despite its title, PR is Dead is a podcast all about how to get press the right way.
The host — PR expert Doyle Albee — explains each topic thoroughly and evenly, giving you inside insights into the PR business and tips on how you can get good news for your business. The release cycle is slower than other podcasts on this list, but the episodes are well worth the wait because they're so thorough. We've also had the pleasure of having Doyle Albee as a guest on Business Systems Explored!
#31 Rocketship.fm
Rocketship.fm is hosted by SaaS experts Matt Goldman and Joelle Goldman. It's about how to launch a startup, grow your company, stay productive, demystify data, and build a better business.
Standout episodes include this episode on growing your business with data, and the history of SaaS.
We were lucky enough to get Matt Goldman as a guest on Business Systems Explored, so make sure to check that out for information on reducing churn in your subscription or SaaS business.