Keeping track of everything that you and your team need to do is really important. Luckily, Process Street's Inbox feature lets you do just that!
Think of it as your own personal "to-do" list for Workflow runs, approvals, or tasks that you have been assigned to.
For managers and team leaders, it's also a great place to help monitor and manage the rest of your team's work.
Users: Admins, Members, Guests (Internal) and Guests (External) all have their own Inbox.
Get set up to use Inbox
First, you'll need to assign tasks, approvals or Workflow runs to users (or groups) so that they will appear in each user's inbox.
The best practice is to also set due dates on your tasks or the whole Workflow runs, that way users have a deadline to work towards and this also helps prioritize items in your inbox (more on this below).
Once you have work assigned for you and your team, head to your inbox to see how it helps keep you and your team on track.
Accessing your Inbox
To access your Process Street Inbox, click on the "Inbox" button in the top left of your screen, or click here to open it up in a new tab.
If you have items in your inbox that need to be dealt with, you'll see the number of items displayed here too.
Using your inbox
Your inbox contains all the work that you have assigned to you. You'll see two tabs, one for your main inbox and one for upcoming.
The main 'Inbox' tab is where you will find any tasks, approvals, or Workflow runs that are overdue or due today (plus any items with no due dates that you have been assigned to).
Anything that is overdue will be pushed to the top of this page.
Viewing assigned Workflow runs and tasks
You can identify the items that have been assigned to you by their icons:
Click on a task, approval or Workflow run to open up the pop-up window. Here you can see the details and complete them as required, as shown below.
Once you have completed an item, you are taken automatically to the next item in your inbox to work on.
Pro tip: Use your left or right cursor keys on your keyboard to skip through items in this view to see what's coming up.
Make it fullscreen
If you prefer to work on a fullscreen version of your task or Workflow run, you can click the task name or the Workflow run name, which opens it in a new tab.
Shortcut to the Workflow run or Workflow
You can also jump to the Workflow run from this view, by clicking the link below the task name.
Jump to the Workflow by clicking the link under a Workflow run's name.
Upcoming tab
Once you're done with all of the tasks and Workflow runs in your main inbox, you can start working through the items in your upcoming tab. This is where you will find any items that are due tomorrow, next week, next month or next year.
These are shown in date order, in the same way as your main inbox tab, with the shortest dates at the top of the page.
My Comments
If you were @mentioned in a comment in any task, the comments will show up here.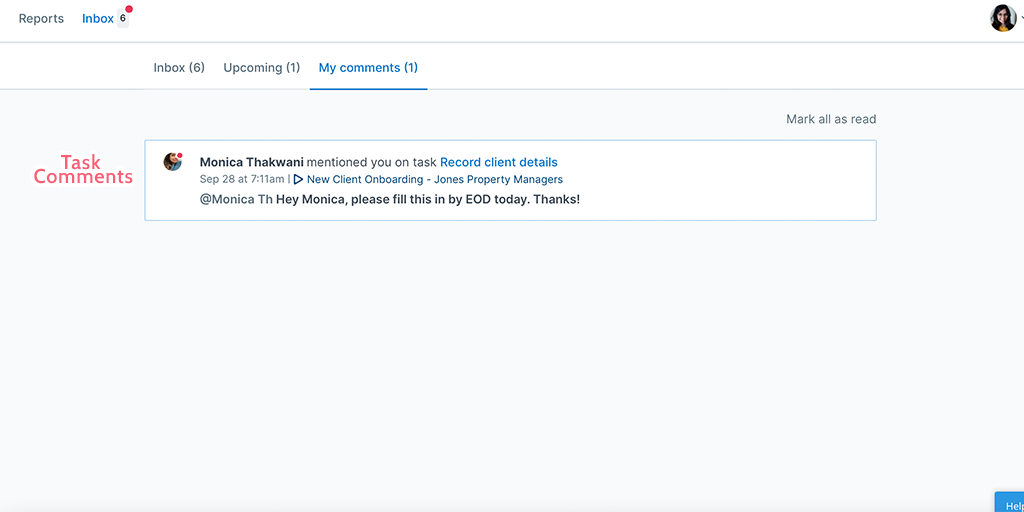 You can either reply to the comment directly from here or mark it as read. You can also click on the task or Workflow run's name to go to the related Workflow run.
Using inbox filters
There are two filters in your inbox, which determine what you can see.
You can use the "All" drop-down next to the search box, to filter out only tasks, Workflow runs or approvals, depending on what's important to you.
Note: Approval tasks will only show in your Inbox when all the tasks to be approved has been completed.
Viewing teammate's Inboxes
The second filter "Assigned to Me" is accessible to Admins and Members with "edit" or "view all" permissions. In this filter, you can view other users' or other groups' inboxes.
Click on the "Assigned to me" drop-down shown below, and select the user or group to view their inbox:
Guests or Members with "Run" or "View" permissions, can only see their own inbox.
Completing Workflow runs and tasks
You can complete a task or a Workflow run from your inbox by clicking on the item to open the pop-up window. From here you'll see the green tick button in the top right corner of this view. Click this to complete this item.
You can also find this green tick by hovering your mouse over your profile picture in your main inbox, as shown below.
Note: You cannot complete tasks or Workflow runs with required fields or stop tasks until these have been completed first. You'll see a flash notification at the top of your screen if this is the case, as shown above.
Approvals don't have this green tick, so to complete Approvals you would need to either use the popup window or open the Workflow.
Snoozing Workflows and tasks one by one
If you're not ready to complete a task or Workflow run, or if you would like to push the due date forward to a later date, you can snooze items in your inbox. This effectively overwrites the task or Workflow run due date.
Hover over your profile picture or the due date to see the clock icon, and then select one of the default snooze options, or pick a custom date and time.
The item you have snoozed will move to either lower down in your inbox tab (for "later today") or to the upcoming tab, for any time period chosen from tomorrow onwards, shown above.
Completing & snoozing multiple items at once
You can use the multi-select feature in your inbox to complete or snooze multiple items in one go.
Hover your mouse cursor over the task, approval or Workflow run icons on the left of your screen and you will see a check-box appear. Select as many tasks or Workflow runs as you'd like and then you can either complete them all (as long as there are no required fields or stop tasks) or snooze them all.
There is also a checkbox at the top of this view, where you can select everything in your inbox (shown above).
You will see a warning message if you have any required fields in any of these items that need to be filled out first before Workflow runs or tasks can be completed. These items will remain in your inbox until you have completed all the required fields.
Daily inbox email notifications
You can choose to have a daily email reminder for any overdue and upcoming tasks in your inbox, to be sent to your email address.
Please note that if your main inbox tab is empty, no email will be sent. The notifications are triggered by any items in your Inbox tab and not the Upcoming tab.
Inbox keyboard shortcuts
There are a couple of handy keyboard shortcuts you can use to help you get your work done faster inside your inbox.
First, select the task or Workflow run so that you can see it in the pop-up view.
Use the left or right arrow keys on your keyboard to move through items in your inbox
Type e or y – to mark a task or Workflow run as complete