Are you ready to market your SaaS product to enterprises? Do you know what makes or breaks a million dollar deal?
There's a huge segment of SaaS companies that target only SMBs, and an increasingly well-funded bunch that go after the enterprise market from the outset. Some, like Dropbox, Asana, and HubSpot, have gradually scaled their products to meet the needs of enterprise customers. By looking at their enterprise-specific landing pages, we can isolate the key factors these companies have chosen to persuade enterprises, and find out what works.
After all, billion dollar companies aren't making shots in the dark when it comes to their marketing decisions. I also examine Box's landing page, a company that pivoted to serve the enterprise market early on.
Attracting enterprises has been a recent consideration for Process Street, which is partially why I decided to look into the methods successful SaaS companies use to attract more enterprise customers. The buying process for SMBs and enterprises differs wildly, and the marketing material is made to match.
Enterprise SaaS is usually marketed through specific landing pages with pricing packages for high-end customers. This material can tell us a lot about what works in the enterprise sphere:
What do these high-end customers care about? How do you convince an enterprise that they should sign up for thousands of seats?
By looking at the enterprise marketing tactics of 4 successful SaaS companies, we'll find out.
How Dropbox markets to enterprises
Dropbox made a name for itself in 2011 by creating a viral loop with its referral program. This growth was driven mainly by small businesses and consumers, but it's since taken aim at the enterprise market with additional security, onboarding, and compliance features.
On the 30th of January 2017, these tweaks pushed Dropbox to $1b in revenue, making it the fastest company to hit that milestone and breaking Salesforce's 8 year-old record by a margin of almost 9 months. Let's look at the page Dropbox uses to market to enterprise customers, and what they place emphasis on.
Emphasized features:
Security
Onboarding
Collaboration
For Dropbox's Enterprise plan, the language used in the product name — Enterprise File Sync and Share (EFSS) — is different from the language used to describe Dropbox to small businesses. To clarify, "[software in the] EFSS market emerged around 2010 as alternatives to consumer file sync and sharing services that did not have security features in place to protect company information nor the flexibility to integrate with existing content repositories and business applications."
Social proof is also a major focus. Hyatt, Nasdaq, Hewlett Packard Enterprise, and the logos of many other big firms are shown prominently on Dropbox's enterprise landing page. Enterprises need to know that other huge companies (with as much to lose as they do) trust Dropbox.
Landing pages for consumer or SMB-oriented SaaS often have a strong call-to-action above the fold. Dropbox, however, chooses first to build trust.
The first CTA on Dropbox's enterprise landing page is to a Gartner Report — enterprise customers are more likely to do heavy research. Directing a prospect to a report rather than a signup form isn't as risky for enterprises because the sales cycle and research process is much longer. Plus, Gartner will be an easily recognizable name for any enterprise employee tasked with buying a new SaaS product.
After the social proof section of the landing page, Dropbox goes on to emphasize the security of their platform — "Leverage your existing directory service to administer granular permissions to files and folders—the data is protected both in transit and at rest". Dropbox mentions the security they provide as well as the permission features enterprises can use to control access. At the enterprise level, bad security — both internal and from the service providers — can lead to bankruptcy through lawsuits.
Even in the line about security, Dropbox is intent on making it sound easy to roll the product out across a large organization ("Leverage your existing directory"). Adoption is the 2nd biggest selling point here, with emphasis on forced invites and the offer of a customer success agent to help.
The final call-to-action is a Contact Us button. As seen in most SaaS pricing pages, it's common for enterprise-targeted SaaS to hide pricing because the deals are often too complex to express reliably and realistically. (This study explores more reasons why.)
How Asana markets to enterprises
Asana was created by Dustin Moskovitz and Justin Rosenstein. Dustin is Facebook's co-founder, and Justin was the lead engineer in charge of creating the Like button. As the tool originally used to manage projects internally at Facebook, Asana is built with the needs of enterprises in mind, and certainly knows how to market to them.
To data, Asana has raised over $88m in funding and is used by companies that fit the textbook definition of enterprise: NASA, Deloitte, and General Electric, to name a few.
In 2013, Asana launched Organizations, and made the product enterprise-ready.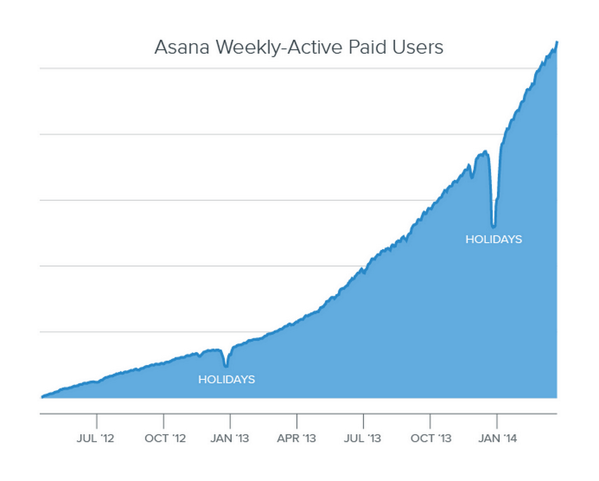 According to an announcement in 2015, Asana is used by at least 15,000 organizations and 140,000 teams. Let's take a deeper look at how Asana markets to enterprises.
Emphasized features:
All of Asana's benefits for enterprises are laid out in the first line of copy, then dissected one-by-one further down the page.
On Asana's enterprise landing page, the importance of security is shown in the context of compliance: "The security your organization needs".  Asana describes administration and security controls as "often required", again emphasizing compliance.
Because enterprises have complex organizational structures, they need complex permission controls to match. Often a differentiating factor between free plans and business plans is the introduction of granular permissions, but, in an enterprise setting, this might not be enough. Asana offers SAML for businesses where "enterprise-class IT requirements must be met prior to widespread adoption".
Enterprises have been slower than SMBs to adopt cloud software because of concerns over compliance and data security. This is still an issue for many enterprises, which is why Asana goes to great lengths to reassure the prospect that their key enterprise features are geared towards addressing these concerns.
With Asana enterprise, you get a "dedicated Customer Success Manager" and "guaranteed support within 2 business hours." While smaller businesses are often happy with self-serve, enterprise customers want the opposite. Without support and customer success, setup time could be long in big organizations, and any operational bottlenecks impact enterprises more significantly than SMBs.
Unlike Dropbox which features customer logos at the very top of the page, social proof on Asana's enterprise landing page doesn't come until halfway down. The quote comes from Tribeca Film Festival, owned by Tribeca Enterprises, a private company with ~230 employees on LinkedIn (but a well-known name, nonetheless).
How Box markets to enterprises
Box was founded three years earlier than Dropbox, and, as the consumer cloud market became crowded, the team set their sights on the enterprise market early. In a 2012 interview with CNET, CEO Aaron Levie said:
"We're a 100 percent enterprise-focused company, and all the technology we're building goes towards asking how do we make it easier or more scalable, or simpler, and just a better way for businesses to share and manage and access this data."
This pivot, coupled with early entry into the cloud storage market, brought Box to a successful IPO in 2015 at a valuation of $1.67b.
Considering that 59% of the Fortune 500 are among Box's paying customers, it's safe to say that Box's brief and focused landing page is a masterclass in enterprise marketing.
Emphasized features:
Security
Compliance
Integrations
From the calls-to-action Box places above the fold on their enterprise plan landing page, it's obvious Box wants to make it easy and tempting to contact their enterprise sales team. In contrast to Asana and Dropbox, Box takes a more traditional approach to marketing and focuses on the core features of their product, not on the security and compliance.
The primary description on the page is "Best for corporate businesses that need top-notch security and compliance features." This is unsurprising based on what we've seen so far, but a more interesting selling point Box chooses to focus on is integrations.
A big benefit of SaaS over traditional software is its ability to integrate with pretty much any other app that can connect to the internet. Apparently, the average enterprise uses 1,427 distinct cloud platforms! It'd be hilariously unworkable to silo data in each of these 1,427 platforms, so integrations become more and more necessary as enterprise cloud adoption increases.
When talking about integrations, Box is careful to reference two of the biggest enterprise-targeted SaaS products on the market, Salesforce and Docusign. By talking about tools the company already uses, the copy prompts the reader to imagine how much easier it'd be if their SaaS was integrated.
Box's short landing page concludes with a section on security. Box offers two-step verification, and a feature called Device Trust. When Device Trust is enabled, machines connecting to Box need to have a verified certificate or access will be denied. This stops hackers remotely accessing files, and employees logging into Box on a device that hasn't been secured by the company's IT team.
How HubSpot markets to enterprises
HubSpot — home to some of the best marketers on the planet — started out by targeting small businesses in 2006. By 2012, the product had progressed to the level where it could serve enterprises, and the team at HubSpot started marketing accordingly.
The results speak for themselves. 💰
In a 2012 interview with Forbes, HubSpot CEO Brian Halligan explicitly clarified their intentions to take aim at the enterprise sector:
"HubSpot, founded in 2006, began by catering to what Halligan personifies as "Ollie Owner" companies, small operations whose 1-10 employees manage marketing efforts along with an array of other responsibilities. Since then, the company has moved steadily upmarket to serve larger businesses of up to 1000 employees. The next target: "Ernie Enterprise." Large corporations, Halligan explains, are now ready for HubSpot's products"
Here's how HubSpot markets to enterprises today.
Emphasized features:
Like Box, HubSpot places a Contact Us call-to-action above the fold, along with a phone number in the navigation bar. "Scale your marketing" is the prominent benefit, and the rest of the landing page goes on to explain exactly how HubSpot makes huge marketing campaigns scalable.
Out of all the types of business, enterprises are the ones most likely to have the need to process a ton of data. So much data that it'd be unthinkable that a human could process it. Especially with big marketing campaigns, where every visit, click, and bounce creates more data. HubSpot addresses this by focusing on how it can automate your marketing reports and data analysis:
HubSpot frames its marketing platform as an intelligence tool that will automatically assist marketing teams in data analysis. Automating is especially attractive to enterprises because saving time and improving a team's efficiency by just 1% can save millions of dollars.
According to Leadfeeder, placing the ROI feature near the top of the landing page is a smart tactic when marketing to enterprises:
"If you can successfully make an effective projection of ROI, you'll often land the deal." — Peter Seenan, Leadfeeder
It isn't a promise that HubSpot itself will have a good ROI, it's a promise instead to give you ROI data on your whole marketing efforts. Considering the hundreds of different SaaS platforms enterprises use in parallel, this promise is far more compelling.
Social proof from a 500-employee corporation is backed up by a case study. Case studies are preferred decision-making material for 66% of B2B companies because they show how the product works in a comparable, real-world situation.
The landing page includes three quotes and three case studies, each linked to different features and benefits of the platform. HubSpot's landing page is significantly longer than the others I looked at in this article, perhaps owing to the complexity of the product. However, wherever you scroll on the page, the phone number floats at the top and gives visitors the lowest friction way to get in touch at all times.
What do enterprises want?
Knowing the extent to which big companies run tests and conduct research, looking at landing pages gives you an incredible amount of insight into what works. By generalizing based on the commonalities of these examples, it's safe to say that enterprises are primarily concerned with:
Security. Will this product protect our company's data and comply with all required regulations?
Onboarding. Will it slow us down while we roll the product out across our organization? Is customer success offered?
Social proof. Do other companies like ours trust the product? Is it proven with reports and case studies?
Proof of ROI. Can we be certain we won't lose money?
Automation. Is this product going to create more work for us?
Integrations. Will it slot into our existing, highly-embedded systems?
Support. Do we have access to 24-hour support in case of emergency?
Complex access control. Can we control who sees what data, even with our complex organizational structure?
In this post, we've looked at how SaaS is marketed to enterprises, but what about the sales process? Check out Inside SaaS Sales for 1000+ real sales emails and voicemails from enterprises.
Are you starting to gear your SaaS company towards enterprises? Have you successfully marketed to enterprises for a while already? Let me know in the comments.