Many teams use a plethora of tools in their day to day operations which can be a pain to manage.
If your business uses Slack, then our Slack App gives you a shortcut to Process Street, bringing your workflows and tasks direct to where your teams are working.
Connect Process Street to Slack now:


Plan: The Slack App is available on all plans.
Users: All users can access the Slack App.
Work from Slack
You can work on tasks, approvals, and complete checklists without needing to open Process Street.
When you've been assigned to a task, you can fill out form fields and use features like the email widget and conditional logic, all from Slack.
And for tasks you've been assigned to approve, you can approve or reject them with the click of a button.
You'll receive instant notifications in Slack when:
You're assigned to a task
You're assigned to a checklist
A task you're assigned to is due
An approval task you're assigned to is ready
Your work has been approved or rejected
A comment is left on your assigned task
You're @mentioned in a comment
This allows you to focus on the work that's important to you, without navigating away from Slack. And you'll have one less tab open on your browser 😉

How do I set up the app?
Login to your Process Street account and your Slack account to get started.
When you access the Process Street Slack app, you'll be taken to the authorization page shown below.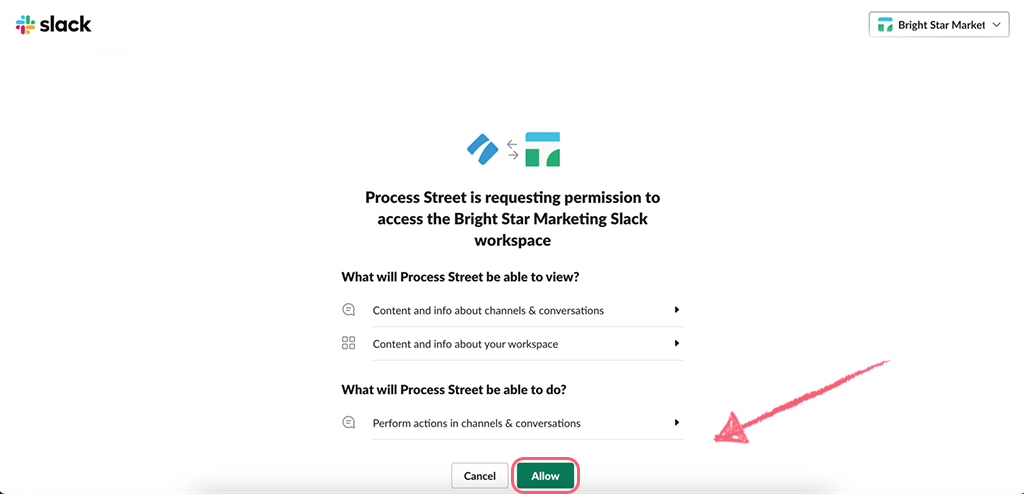 Click "Allow" which creates a new channel for you, ready to start receiving notifications and tasks to work on.
What about the rest of my team?
Each user in your organization will need to follow these steps to add the Slack app to their local version of Slack.
Manage app installation settings for your workspace in Slack.
@Mentions
If you @mention colleagues from a Process Street organization, they will also need to have installed the Slack app for the same organization to receive notifications from you.
More than one organization
You can only receive notifications from 1 organization per workspace in Slack.
If you would like to change which organization you are receiving notifications from, you'll need to switch organizations from your organization page within Process Street and then click the "Add to Slack" installation link again (at the top of this article).
Once you have authorized your new organization, you will receive a message like the one below, after which you can start working directly from Slack.
Notification settings
You can adjust how you see or hear Slack notifications on desktop, iOS or Android by configuring your notifications in Slack.
---
Limitations
There are certain actions which you will need to open up a checklist or sign into Process Street to perform.
You'll need to open a checklist in Process Street to:
Upload files – in the Slack App you can download previously uploaded files
View videos, embeds and files (via a link which you can click to view in your browser)
Add a time to date form fields – you can set the date part in Slack, but not the time part
Reject an Approval with comments – you can approve or reject without comments in Slack
You'll need to sign into Process Street to:
Run new checklists
Assign users to tasks or checklists
Snooze tasks
Respond to comments
Create or change due dates
Language
The Process Street Slack app is available in English.
If English isn't your first language, you can translate messages inside Slack.
---
By installing or using the Slack app you agree to our privacy policy.
Need help?
---