Adding a "✋ Stop" to a task in a template will turn it into a stop task.
All tasks after the first stop task, and the checklist itself, are disabled and can not be completed until the preceding stop task(s) are complete. This simple action turns basic checklists into powerful workflows.
Put another way: stop tasks stop a checklist at that point. No tasks past that point can be completed until the stop task is done.
Note: Stop tasks are a feature on our Standard plan.
Stop Task Examples
Here are a few things you can do with stop tasks:
Create checklists with "enforced order"
Create hand-offs between different team members
Disabled tasks until relevant
Break up checklists into stages
Assign parallel tasks to different team members
For more ideas on how to use stop tasks, check out our post:
6 Ways to Use Stop Tasks to Improve Your Team's Workflow
Creating Stop Tasks
First, select the template you wish to edit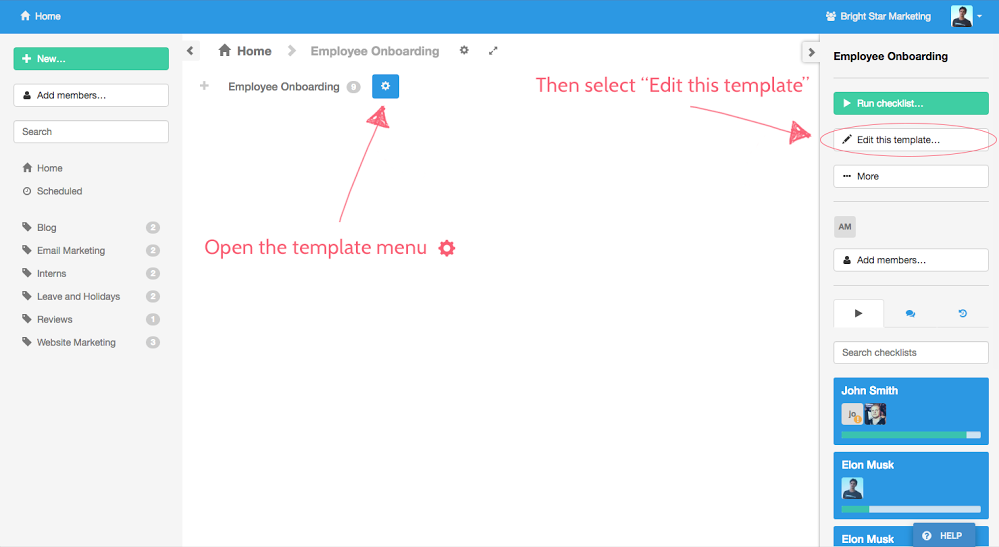 Adding stop tasks to your template is easy. Just hit the "Add Stop" button on any task.
Stop tasks are indicated with a ✋-style icon just underneath the task number.
If you are wanting to enforce the order on a number of tasks in one go, you can use a keyboard shortcut to select a number of tasks at once.
To select many tasks in one go, hold down the 'Shift' key (Windows & MacOS) and use your mouse to click the two tasks and everything in between will become highlighted. You can then click the 'Add Stop' button and save your template.
You can also use the 'CTRL' Key (CMD in MacOS) to individually select multiple tasks at a time. Hold down the 'CTRL' key (CMD in MacOS) and use your mouse to click all the tasks you want to add a 'Stop' to. You can then click the 'Add Stop' button and save your template.
Running Checklists with Stop Tasks
Once you run a checklist with a stop task, the tasks after the stop task will be disabled and hidden by default. A disabled task cannot be completed until the previous stop task is checked off.
You can click on 'Show More' to expand the view to any tasks after the 'Stop Task'.
Once the preceding stop task is complete, the task is enabled and can be completed.
Inbox, Notifications and Stop Tasks
Disabled tasks do not trigger assignment email notifications and do not appear in Inbox until they're enabled.
This is great for reducing clutter in members' inboxes, and noise from email notifications on tasks that may not be ready to complete.
Required Fields and Stop Tasks
If your checklist contains tasks with required fields before the stop task, the stop task will be disabled until all required fields have been completed.
This is great for ensuring certain information is submitted before a checklist can continue.
---