Dynamic due dates let you easily adjust a task's due date based on a varying factor unique to each checklist, like a date field or a task that has yet to be completed.
Note: Dynamic Due Dates are a feature on our Standard Plan.
You can set dynamic due dates based off 4 different triggers:
Any date form field
The completion of a previous task
The checklist due date
The checklist created date (available on free and business plans)
These rules will automatically adjust the due date of tasks as various actions are completed.
Creating Dynamic Due Dates
First, select the template you wish to edit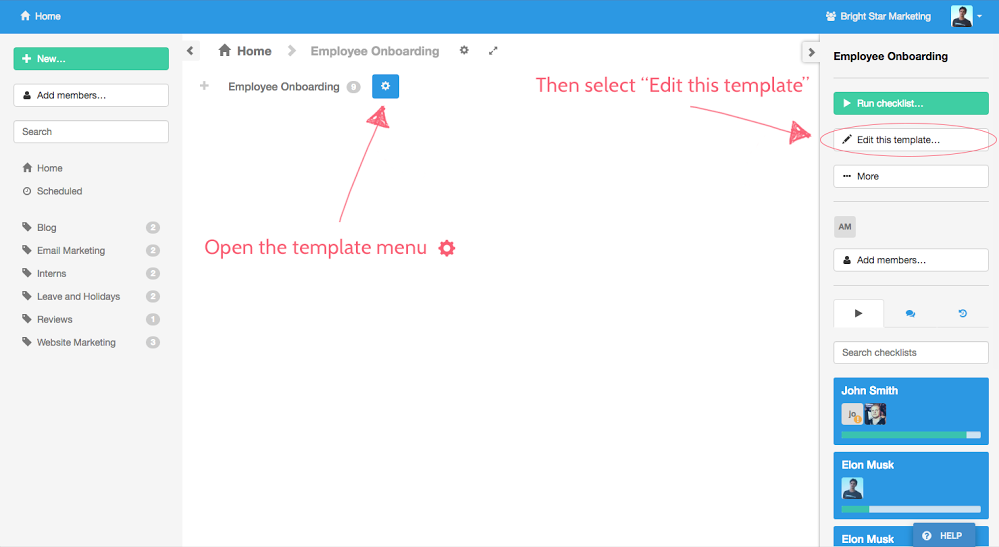 Select the task you want to edit then click the 'due' button
You can set dynamic due dates to trigger before one of these items:
A date form field found in the checklist
The checklist due date
You can also set dynamic due dates to trigger after one of these items:
The checklist start date
The completion of the previous task
Any date form field.
Check out this GIF to see an example of setting a dynamic due date for a task based 3 days before the checklist due date:
Adding Dynamic Due Dates to multiple tasks
You can multi-select tasks, to enable you to add Dynamic Due Dates to more than one task at a time. Use the CMD, CTRL or shift keys to select more than one task or heading at a time.
Modifying Dynamic Due Dates
Once you have set Dynamic Due Dates in your template, you can easily change them if needed.
---