At Process Street, we recognize the importance of being able to integrate our platform with the other tools you use within your company.
Improving your workflows increases your output and your productivity. Automating them maximizes those aims.
In this article, we look at the survey tool Typeform which provides a clean and simplified way to launch survey campaigns that are easy and enjoyable for your audience to take.
Use case:
A small company wants to use a Typeform survey to assess customer satisfaction
The company wants to reach out to the respondents who consented to be contacted
Plan: This integration is available to customers on all plans.
Users: In order to create an API key for integrations, you must be an Administrator.
Process overview:
You will send a Typeform feedback survey to clients
You will configure this survey to launch a workflow run inside Process Street when someone submits their completed survey
You will only launch workflow runs for respondents who consented to be contacted by providing their email.
You will allocate the workflow run to a member of your customer success team
You will auto-populate the workflow run with the client's responses so they can be acted upon
Let's look at how you can do this.
How to run a Process Street workflow run from Typeform
We use the third-party automation service Zapier to connect our platform with different apps. Within Zapier's community, there are over 2,000 different apps and services you can connect to.
These connections are referred to as zaps.
Generally, you will only need to set up the zap one time. This gives you the time to focus on the important things rather than repetitive tasks.
Typeform survey – you can get started by using a template in Typeform and then edit it.
Process Street workflow – you can use this in your account by clicking "Edit checklist".
Zapier is structured so that you pick a trigger and then an action. In our integration, submitting a Typeform survey is going to trigger the zap. The zap will then take the data and give that to Process Street where it will perform the action of launching a workflow run.
Now that you have your workflow and your form set up you can go and login to Zapier.
Connecting Typeform as your trigger
Click "Make a Zap" to get started.
This will take you to the zap building screen where you can select the trigger app which is Typeform and the trigger event is "New Entry".
Click "Continue" and sign in to your Typeform account. Click "Continue" again to move onto set up your trigger.
Here you need to choose the name of your for in Typeform. In this case, it's a customer feedback survey.
At this point, you'll need to fill out your Typeform survey so that you have sample data to pull into the next few steps.
Once you've done that, click "Continue" and test your trigger.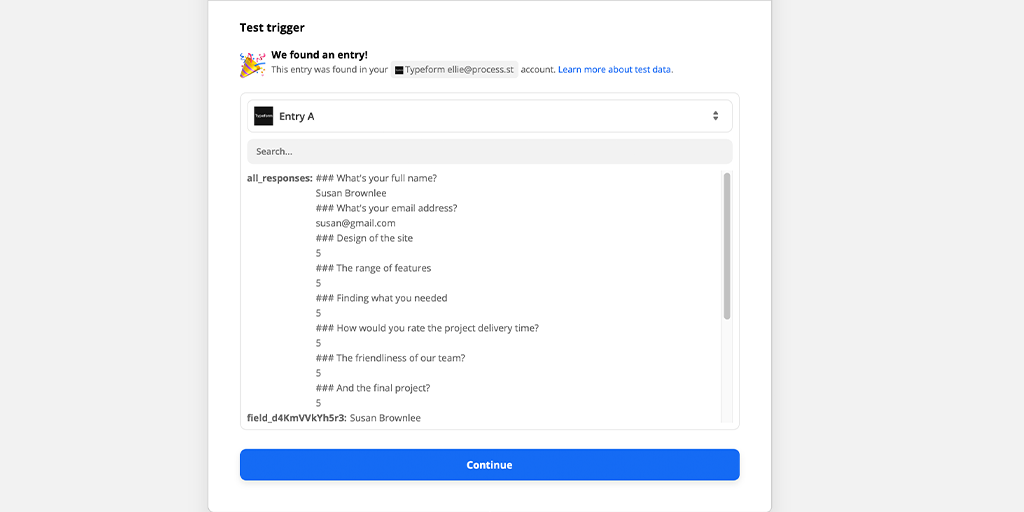 Add a filter by Zapier
Click the plus icon to add a filter.
This will show you the parameters you can filter by.
In the survey, we ask the client if they consent to be contacted about their response. If they consent, they enter their email in the section provided. Choose the parameters as seen in the image below.
Click continue to test this step and move on to setting up your Process Street action step.
Setting Process Street as your action
Select Process Street as your action app and the trigger option "Run Workflow".
Connect your Process Street account with Zapier.
You can find the API key in your organization manager under your Integrations tab (you will need to be an admin in Process Street to access this).
Click "Continue" to set up your action. Select the Process Street workflow you want to run when the form is submitted.
In the workflow section, click the dropdown to find your customer success workflow. For the workflow run's name, you can choose any of the fields from your Typeform submission.
Decide the due date for your employee to complete the workflow run and then who in your team will be assigned when the workflow runs.
Use the "Submit date"+ 24h which gives your workflow run a due day 1 day after the form was submitted.
You can find a number of Zapier help articles about general help with field types or specific articles for modifying dates and times.
Add your clients' responses to your workflow run fields
Next, you can map more data from your client's responses into the form fields of your new workflow run.
You can use a mix of static text and variable fields from your Typeform fields, as shown above.
Click "Continue" and test your action.
Nex head to your Process Street account and check that your workflow run was created, with all the data filled out in your form fields.
If everything looks OK, turn on your Zap and you're all set!