What are workflows?
Workflows are the foundation of all your future workflow runs. Think of your workflows as the master blueprint of your process, whilst workflow runs are single, dynamic instances that you run from your workflow.
For example, if you were hiring a few new team members, you would run a workflow for each new hire that you need to onboard, all based on the same new hire workflow.
Users: In order to create or edit workflows you must be an Administrator or a Full Member who has been given 'edit' access by your Administrator.
There are endless use cases for workflows including:
Essentially you can have workflows for every recurring task or SOP that you can imagine!
The above use cases are examples from our library of pre-made, ready-to-use workflow templates which you can copy and use in your organization. You can use these workflows as they are, run workflows from them, share them, or edit them to suit your specific needs.
You can even assign users and due dates to specific tasks in your workflows, to make sure that everyone knows what they need to do and when once a workflow has been run.
How to make workflows
You can make workflows in your organization library or, if you'd like to work on them before sharing with your team, you can create them in your private library first, then move them into your organization library.
Making a new blank workflow
To start from scratch and make a new blank workflow, click the "New" button in the top right corner of your screen and select "Workflow".
You can create a New workflow either in your organization library or from any page which would send the workflow into your Private Library. Once you've finished working on it, you can move it to the desired folder.
Note: If you aren't able to create a new workflow, you may need to ask your Administrator for permission, or to grant you permission to a folder in which to create your new workflow. Only admins can create new workflows in the home screen of the Library.
Once your blank workflow opens up, you can start adding more details to it.
Click where you see the words "Blank Workflow" in the top left corner, and change this to your desired workflow name.
You can add an optional description for your workflow just below its name. This can be used to share an outline of what this particular workflow is used for. Click the words "Click here to add a description" and start typing.
Next, you can start to type task names into the blank tasks as shown below (you can also copy/paste a list of task items from another tool such as excel or google sheets).
Add more tasks and headings
Tasks are the actionable steps that are involved in implementing your workflow.
Headings are the main stages or segments of your workflow and can be used to separate groups of tasks.
In the bottom left corner of the workflow editor, you will see this menu that allows you to create, copy, move or delete tasks and headings.
Click 'Task' or 'Heading' to add these into your workflow
Use the Up/Down arrows to re-order your headings and tasks
Click 'Duplicate' to copy a task or heading (and any content within them)
Click the Trashcan icon to delete a heading or task
Click 'Approval' to add a sign-off task into your workflow
Pro tips:
Add new tasks by hitting your Enter / Return key
Remove an empty task by hitting your Backspace / Delete key
Transform tasks into headings (and vice versa) by adding or removing a colon :

at the end of the words in that field

Re-order your headings and tasks by mousing over them on the left side, then drag and drop them into place
Multi-select separate tasks and headings by holding your CMD or CTRL key and clicking on each item you'd like to select
To select a group of consecutive tasks, click the first task or heading you want to select while holding the SHIFT key. Then click the last task or heading, to select all of them in one go, as shown below
When you multi-select tasks, you can bulk-set Task Assignments, Dynamic Due dates, Stop Tasks and Task Permissions, as shown above.
You can also move this block of tasks up and down, or delete them by using the "Move up" or "Move down" arrows, or delete the block by clicking the delete button.
Publish your changes
Click on Publish to save changes to your workflow when you have finished editing.
Note: The workflow gets auto-saved every few minutes. However, you need to Publish changes to see the finished workflow and start using it.
Now you can run your workflow straight away if you choose, or add more features and functions into your workflow.
We'd recommend adding more to your workflow as this is where the real power of Process Street can be found 😉
Add more functions & features
On the right-hand side of the editor, you'll see two sections, "Content" and "Forms" as shown in the image above.
Content can be used to share information in your workflow, like an image, text or video. Whereas forms are used to collect or store information in your workflow runs.
Find out how to add the various content or form fields into your workflows:
And how to add and use these powerful workflow features:
Learn how to build out or your workflows further, by following the 5 Stages of Process Building in our Getting Started Guide.
Unsaved workflow changes
If you navigate away from your workflow without saving your changes, these changes will be auto-saved as a draft.
When you return to your workflow, you will see a pop-up message at the top of your screen, and a warning icon in the "Edit Draft" button, as shown below.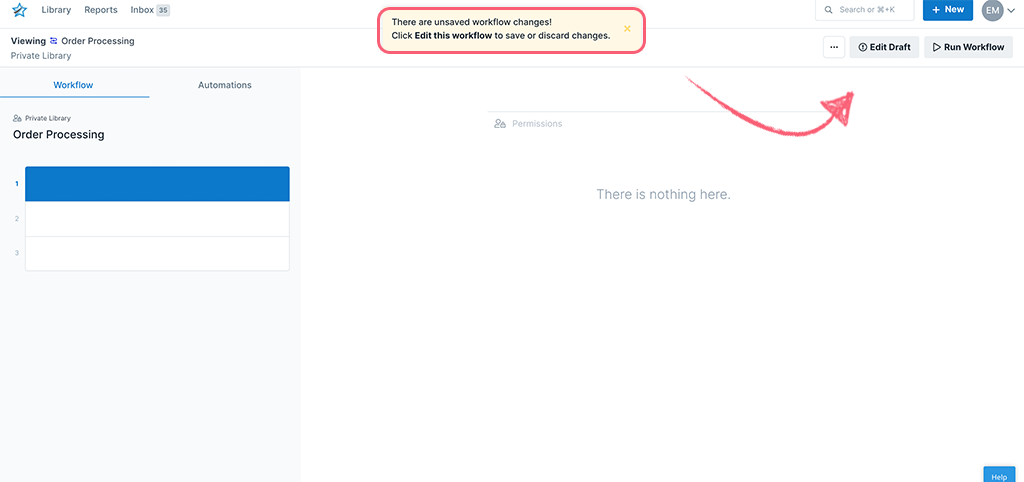 Edit your workflow again, to either publish (or discard) the round of changes since you saved your workflow last.
You can edit your workflow as many times as you need, building in more features and functions as you go.
We recommend that you run instances of your workflow at regular intervals, to test that everything is working as you would like it to.
Using a premade workflow template
If you would like to use one of our premade workflow templates rather than starting from scratch, we have a library full of hundreds of examples to help you get started.
Click on the "New" button at the top of your screen and then select "Workflow from Template" to access the gallery.
Once the gallery is open, you can search the library by typing a keyword or phrase into the search box shown above or by clicking on a category from the menu on the left.
The gallery shows a selection of workflow templates relating to your search. Each one shows an image and a short description of the workflow, to help you decide which one to use.
To use a workflow from the gallery simply click on it, which adds it to either your organization library or your private library. If you opened the gallery while already inside a folder, the workflow will be added to that folder (you can always move your workflows later if needed).
Now you can look through the whole workflow to see all the tasks and content it contains. You can run your workflow straight away or edit the workflow to suit your specific needs.
Whether you are editing a premade workflow or a blank one, the editor is exactly the same. The only difference is that with a premade workflow, you have a lot more tasks, headings, form fields, and content widgets to start with, that you might want to change.
Navigate to the instructions on how to add tasks and headings to see how to use the task menu in the bottom left corner of the editor, and how to multi-select sections of your workflow.
Once you have a few workflows in your library, you may want to start creating folders and then move your workflows into them.
---