Folders are a great way to keep your templates organized and can also be used to manage permissions for different teams of users or different departments in your organization.
For example, each team in your organization (eg, HR, sales, finance, etc) can have their templates in a separate folder, giving them access to only the processes which they need to see.
This increases productivity and security, as no-one has access to templates and checklists which they do not need to see.
Users: In order to create folders, you must be an Administrator in your organization. Admins and Members with 'can edit' permission can manage folders, once they have been created. 
Creating folders
To create a new folder, first head to your template dashboard (click "Templates" at the top of your screen to access the dashboard).
Click the cog next to "Home" and select "New folder". Type in the name of your new folder and click "OK" to finish.
Note: New folders (or subfolders) will be created in the location you're viewing. This means that if you are viewing the home page of your template dashboard, a folder will be created here. If you're inside an existing folder, a subfolder will be created within that folder.
Create subfolders
Subfolders are created in exactly the same way as folders, except you need to start from the folder you want to create a subfolder in.
For example, if you went into your "Marketing" folder, clicked the cog, then on "New folder", you'll create a subfolder inside "Marketing", as shown below.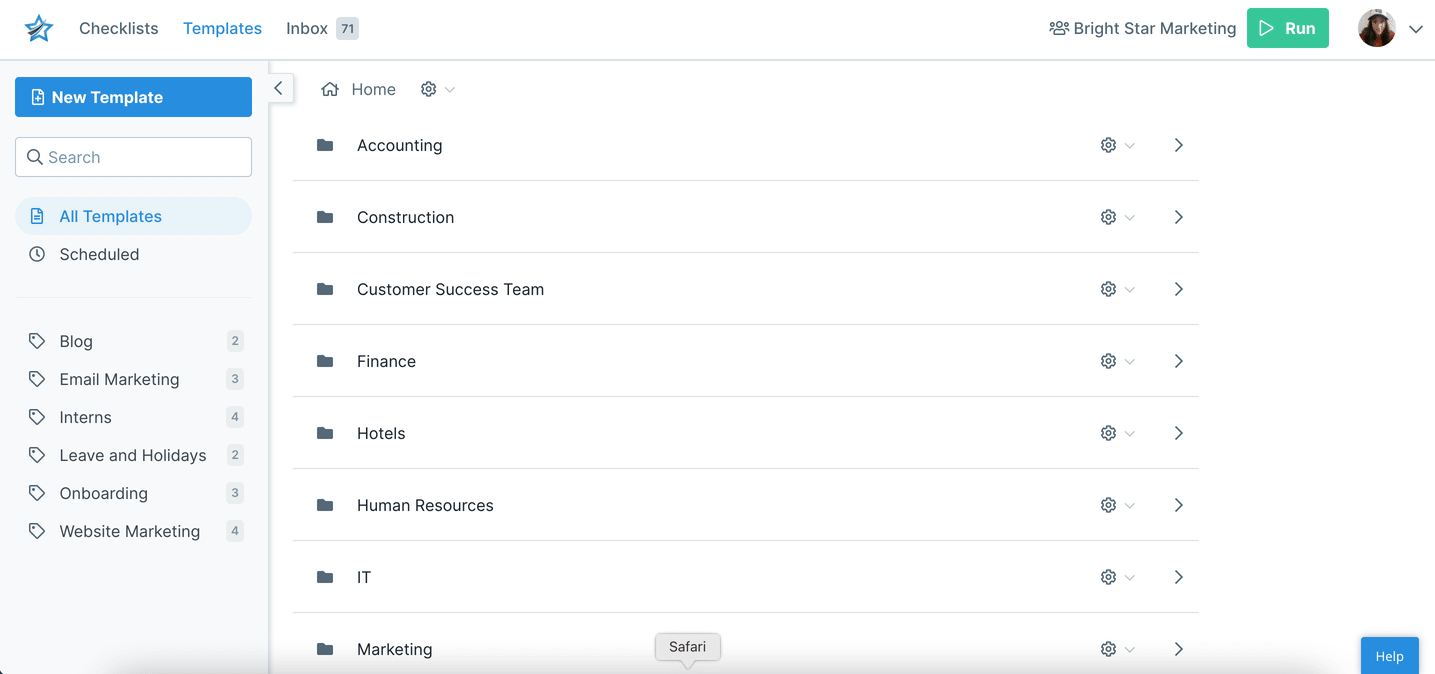 Managing folders
To access a folder's settings, click the folder to enter it, and then click the cog next to the folder's name at the top of your screen.
Rename a folder
To rename a folder, select "Change folder settings" from the dropdown menu.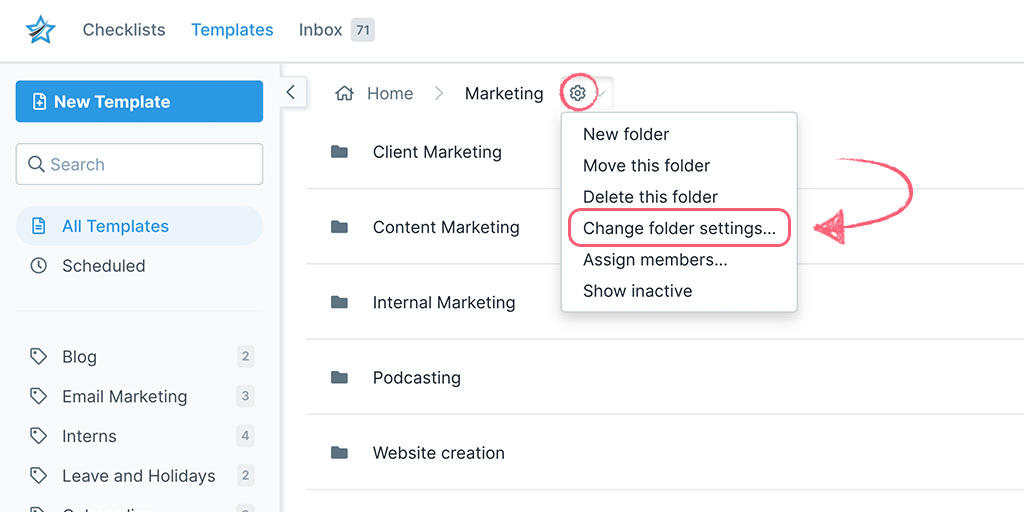 By default this opens on the "Properties" tab. Here you can type in the new name for your folder, then hit "Update" to save your changes.
Delete a folder
To delete a folder you need to be an Admin of the organization.
Click the cog next to the folder's name and select "Delete this folder" from the dropdown.
Note: You can only delete empty folders. If you have templates in there, you would need to delete the templates first, and then delete the folder.
You can also delete a folder from the properties tab, as shown below: 
Move a folder
You can move your folder to another location in your organization, by clicking the cog next to the folder's name, and selecting "Move this folder". Click on the folder you'd like to move this folder to, and it will be moved there.
Note: You cannot move folders between organizations.
Manage folders permissions
To manage the users assigned to a folder, click the cog next to the folder's name and select "Assign members".
From here you have a few options:
Invite a user by typing their email address or searching for them by name (click "Add" to send a new user an invite to your organization)
Manage the permissions of an existing user or group (click the dropdown to select a different permission level)
Remove a user or group from the folder entirely (click the remove user icon to the right of their entry to unassign them from that folder)
Learn more about user permissions.
---