Managing the permissions of your users is a great way to ensure the safety and confidentiality of your templates and checklists.
By assigning each user as an admin, member or guest you can give your users access to segments of your organization rather than the whole thing.
Member permissions can be defined even further, which gives you granular control of which users or groups can view or work on which templates, checklists and tasks.
Users: In order to set user permissions you will need to be an Administrator.
How to manage user permissions
To manage user permissions, you will need to open your organization manager. Click your profile picture in the upper right corner of your screen, then click "Settings" to access this page.
By default this opens on the "Members & Guests" tab. From here you can view and control user permissions.
You will see an entry for each user in your organization, and to the right of the entry will be a display of their current permission level (either Admin, Member or Guest) as shown above.
You can promote a user from guest to member, or from a member to admin (and back again) by clicking on the dropdown box under user "Type", shown below. The current selection is highlighted in blue, so to change access, click on one of the fields in white.
Users can be deleted from your organization entirely by clicking the remove user icon on the right-hand side.
Note: When you delete a user, they will be immediately unassigned from all checklists and tasks. And on our paid plans, when you promote a guest to a member, you will pay for the member pro-rata (for the month or the year dependent on which subscription you are on).
Types of users
There are 3 different main types of users Admins, Members and Guests, which affect how much control they have in the organization, and what they can see or do.
In addition to this, Members can be given one of four separate levels of permission, which gives you more granular permission control.
Here is a snapshot of Admin, Member and Guest permission levels:
Admins
Admins are the top-level users in the organization. They have unlimited permissions and can create and manage groups and folders, manage billing, and delete or restore deleted checklists and templates.
Admins see everything in your organization, no matter what permissions you have set on templates or checklists.
To restrict a user's access in any way they must be either a member or a guest.
Members
Members are regular users in your organization. You can give them permissions to see and work on different folders, templates, checklists and tasks. You can also add them to groups or folders for easy permission control.
Member permissions
Member permissions can be further controlled by choosing 'can edit & run', 'can view & run', 'can view own & run' or 'can view own' levels. These can be applied to folders or templates, giving your team selected permission based on their roles or what they need to work on.
"Can edit & run" is the highest level of folder/template-specific permissions. It is reserved for members who have permission to edit templates, for example managers or team leaders
"Can view & run" is the default member permission level, and is enough for all members except those who actually need to create or edit templates
"Can view own & run" restricts a member's access to certain areas. They can only see what they've been assigned to and not the whole organization.
"Can view own" is the lowest member permission level. It would be useful for situations when users don't need to see each other's information, for example with HR processes that include sensitive data — HR staff can see everything while regular employees can only view their own
Here are the Member permission levels in full:
Guests
Guests can only view their own checklists or tasks they are directly assigned to. You can only assign guests on active checklists.
Here are the Guest permission levels in full: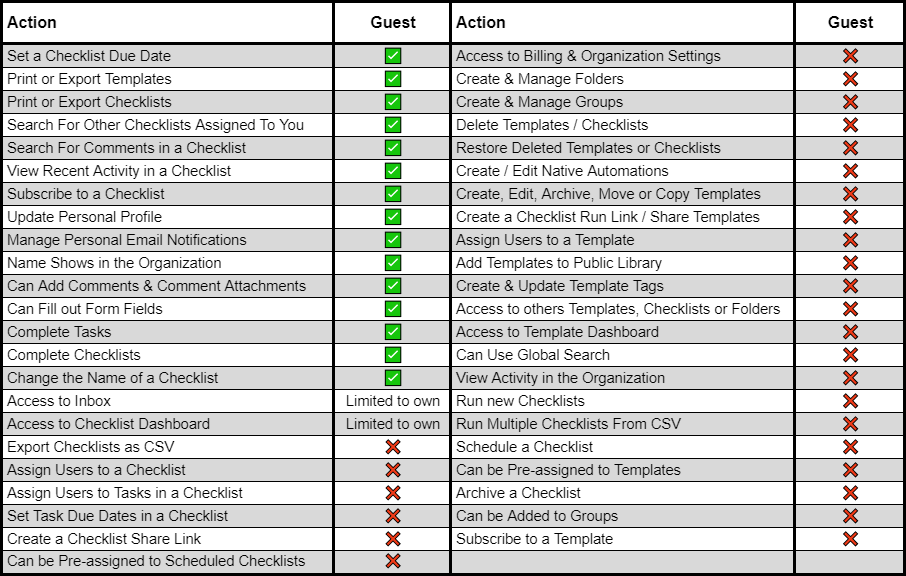 Anonymous Users
Anonymous users are not part of your organization and they don't need a Process Street account to complete tasks in checklists. Learn more about anonymous users.
Managing member permissions
Process Street allows you to give members different permissions to each template and folder, so you can precisely control who sees and edits what.
Folder permissions
You can set individual permissions for users and groups in folders, on a folder-by-folder basis.
To edit folder permissions head to your Template Dashboard and click the cog next to the folder name, then select "Assign members".
Here you can view and change the permission levels for users or groups that you see, as well as invite new users and set their permissions.
As an admin, you can edit permissions for users and groups by choosing an option from the dropdown menu next to a user entry (as shown below).
The current selection is highlighted in blue, so to change this click on one of the fields in white.
Template permissions
You can manage template permissions for users and groups on a template-by-template basis.
Start in your Template Dashboard and click the three dots next to your template's name, to open the template menu.
Next, click the "Share template" button and by default you are taken to the "Permissions" tab.
From here you can add users and groups and set their permission levels, in the same way as you can when setting folder permissions.
Checklist permissions
You can manage checklist permissions on a checklist-by-checklist basis.
By default, the person who ran the checklist is assigned to it (unless you have run it as a scheduled checklist).
To give more users or groups permission to see this checklist, open it and click "Assign users" from the right-hand menu.
Task Permissions
You can also manage user and group permissions on a task-by-task basis, when editing templates.
You can choose to give permission (visibility) on certain tasks to different users, or switch task visibility off for them on other tasks.
Learn more about setting up and using Task Permissions.
Viewing inherited permissions
When a member is added to a template with 'Can edit & run' or 'Can view & run', they inherit the permission to view its checklists.
Members with 'Can view own & run' or 'Can view own' can only see the checklists assigned to them.
To see who has inherited permissions on a checklist, click to open a checklist.
Next click on "View activity" from the right-hand menu, and then select the "Members" tab to see the inherited permissions (either directly on the checklist, on the template or on the folder the template is housed in).
---