You can use Zapier to integrate Google Form responses with Process Street checklists.
When a new response comes through to Google Forms, Process Street can trigger a checklist. For example, in this article we'll look at a zap that triggers a customer feedback checklist in Process Street when a customer fills out your form.
Use case
A small agency collects feedback from its customers
For each new response, the agency wants to consistently process the feedback (causes for concern, high priority, etc.).
Process overview
We will create a zap that connects Google Forms responses to Process Street
Responses from Google Forms will be automatically filled into the checklist to keep information to hand while processing
Let's get started.
Add the feedback processing template to your Process Street account
You can use our premade feedback form, or you can create your own from scratch that fits your needs. For this tutorial, we've selected an easy example to demonstrate.
We're going to use our premade customer feedback survey template which you can grab below:
Click "I want this for my business!" to add the template to your Process Street account. Make edits to customize the process in line with your needs.
Create a customer feedback form in Google Forms
Do you have a customer feedback form already? You can skip this step. If not, use the Google Forms form builder to create a new one.
These form fields can be automatically filled into the Process Street checklist. We'll set this up in the next step.
Create a zap to connect Google Forms and Process Street
Log into Zapier or create an account, then click 'Make a zap!'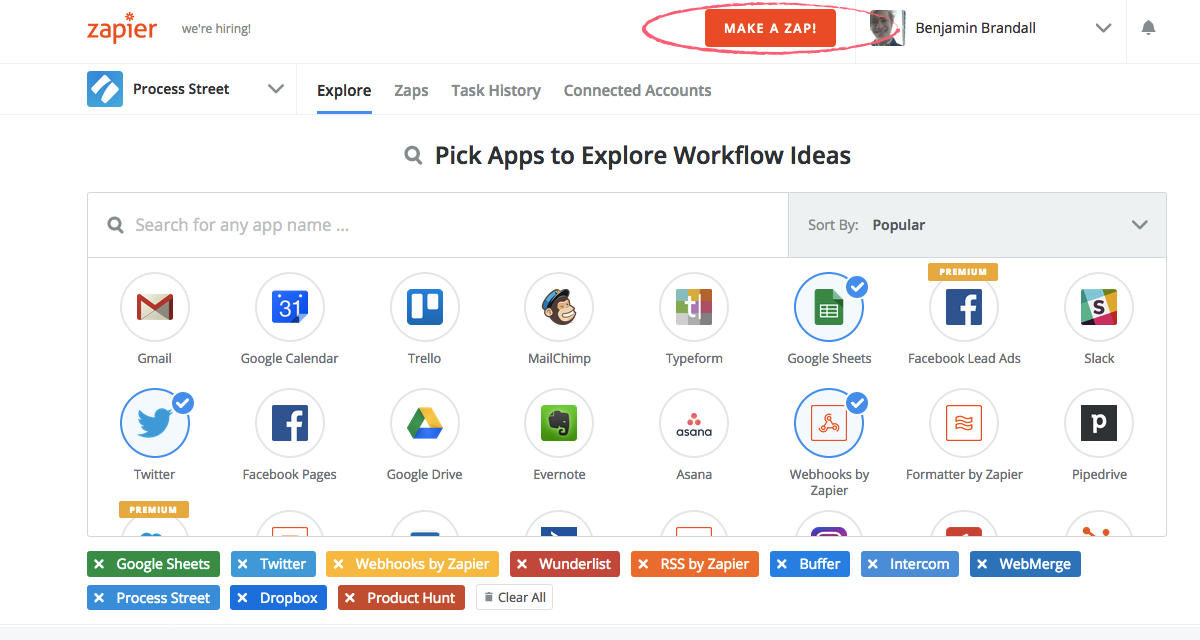 All Google Form responses end up as rows in a spreadsheet. Choose your trigger as Google Forms, and select "New Response in Spreadsheet". Select your exact form from the dropdown menu in the next step, like this:
Set up the zap to send data to the Process Street checklist form fields
Instead of copy/pasting or switching between tabs, keep the feedback in the same place it's being processed by feeding it directly into the Process Street form field.
Set up Process Street as the zap's action step, with "Create Checklist" selected.

In "Edit Template" you'll see your template's form fields. You can use the "Insert a Field" button to insert dynamic data from Google Forms. For example, any form response is saved to the 'formresponse' variable, and will be inserted into that field for every new checklist:
Once you have filled the form fields with Google Forms variables as you see fit, the last thing to do is to run a test. Click continue, and test the zap.
Check Process Street to see your test checklist, complete with filled form fields:
And that's it! You now have a zap template that will create new checklists for each Google Form response.