I got bitten by a dog recently, and, funnily enough, it gave me the idea for this article.
The dog wasn't at fault; it was the process that led to me having to get 5 vaccines over the course of a month, wherein my only major complaint was the way patient records were kept and processed at the hospital I went to.
You know how frustrating it is to deal with a business with inefficient, ineffective processes?
Every single time, I had to fill out my name and address again in some tattered paper version of a spreadsheet that got shoved in a filing cabinet. After I'd gone to do that, they were able to confirm that I needed injection 3 because of the paper 'injection passport' I got given, and I was sent to pay for this particular session before coming back to queue up again.
What does this have to do with BPM?
Like I said, the dog bite didn't bother me anywhere near as much as how they ran their systems and how that reflected on their customer experience.
The hospital was still being run on paper, and everything went at snail's pace as everything had to be handwritten, hand-filed in hulking file cabinets, the same job done over and over again, day in, day out by a belaboured secretary.
So… what does that have to do with BPM?
Well, all of these problems are symptoms of either badly designed processes, and failure to acknowledge and optimize existing processes. Basically, the hospital desperately needed BPM.
In this article I'll attempt a comprehensive guide to "what is BPM", from absolute beginner to fully-automated luxury BPM control station.
What is BPM, really?
Simply put, BPM, or business process management, is a system made up of the following components:
Processes that your business uses to achieve its goals
The ongoing task of monitoring and tweaking these processes to ensure they are achieving said business goals
The tools that make these things easier, like Process Street
You need a good understanding of what processes are and how to implement them properly before you can start managing them.
Processes are just instructions to get certain tasks done. They have to be clearly written, unambiguous, and actionable. I went into more detail about the planning, building, and deployment cycle in this post on implementing processes.
"Monitoring and tweaking" is another way of talking about one of the continuous quality improvement methodologies like PDSA or DMAIC.
As for the tools? Anything that can streamline your processes with automation, enable better tracking, make them more actionable, and generally make life easier for you and everyone who is a part of your processes.
How to start using processes ASAP
Time is valuable, so I'll try to distill the most important stuff first. You have to start by documenting your processes! Only then will you be able to systematically improve them.
The three simple steps for getting your basic processes documented are thus:
Pick your processes
Record the steps of your processes
Follow the process
You already have processes. Even if they're the most broken, inefficient, poorly optimized processes imaginable, they're there. The first step is documenting them, so you can begin to systematically improve on them.
Start by documenting a list of all the processes you use at your company. Then decide which of them are the most important. Consider how these processes align with existing business goals and try to separate the "core" processes from the more trivial ones.
Once you've got a list of your processes, and have outlined the most important ones, try to break down the individual tasks that make up these processes. Go one at a time, and make sure you include the most important steps. You could be doing this any way you want, but the most important part is that you're starting to record your processes.
If you need help determining your most important processes, but you feel like you don't have the time to invest, check out this article on figuring out your processes on a tight schedule: How to Create Business Systems Even When You Have No Time.
Finally, follow the process. How will you know it's working, or what needs improving, unless you actually start using it? That's what processes are for!
How & where to document your processes
When you're writing processes, consider these golden guidelines:
Keep things brief, without sacrificing clarity
Use simple, unambiguous language without jargon
Begin each step with a clearly actionable command
Make sure each task is a single action (not too complicated)
That covers how, but what about where?
At the lowest level, you could be recording your processes on paper, and it might well be working. On some level. But, stick to paper process management and you'll swiftly be reminded why you need something better.
The simple answer to this question of where is BPM software.
What is BPM software?
Business process management software is any tool used to create, update, and distribute process documents. Something designed to do all of the above, but quicker, easier, and better.
BPM software also assists with tracking, executing, and automating some elements of the business process. It started out as an enterprise system to integrate siloed applications, work, and data and integrate the movement of data and tasks across teams and departments.
Recently, a new wave of software has been developed to enable small/medium businesses to access the BPM power that enterprises have been using for years.
To repeat, a business process is a set of instructions that gets executed repeatedly by a designated team or individual. It lays out a plan from start to end that tells you how to achieve a particular goal. This can be anything, from packing a box for delivery to building a new warehouse from scratch. BPM software is the tool that helps you master your processes.
If it's particularly useful, it won't just be simply for managing the maintenance of the documents, but it'll also track runs and activity around the processes.
To achieve the best possible similar effect without software, you're going to need a lot of paper, physical space, filing cabinets, labor hours and at least one person with intense organizational skills.
The paper route will leave you with a heap of documents, and, every time you change anything, be it a CRM solution, department head, office block or email provider, hundreds of documents are out of date and need rewriting, printing, filing, labeling, and storing.
Basically, business process management software avoids that kind of time-wasting behavior and lets you focus on what matters: centralizing up-to-date processes.
Getting started with BPM software
Let's say you're an old school paper-reliant business right now. Your processes are maintained in a labyrinthine filing system, the methodology of which is so arcane it's only truly understood by one person who left the company 20 years ago.
As I described earlier, a business without digital processes gives customers a frustrating experience. Writing for McKinsey, Shahar Markovitch and Paul Willmott put it perfectly:
"Customers wouldn't phrase it this way, but they are demanding from companies in many industries a radical overhaul of business processes. Intuitive interfaces, around-the-clock availability, real-time fulfilment, personalized treatment, global consistency, and zero errors—this is the world to which customers have become increasingly accustomed. It's more than a superior user experience, however; when companies get it right, they can also offer more competitive prices because of lower costs, better operational controls, and less risk."
You heard 'em. Time to improve.
Transferring paper processes to digital
If you're currently using paper to document your processes, it probably looks something like the process I referenced in the first chapter: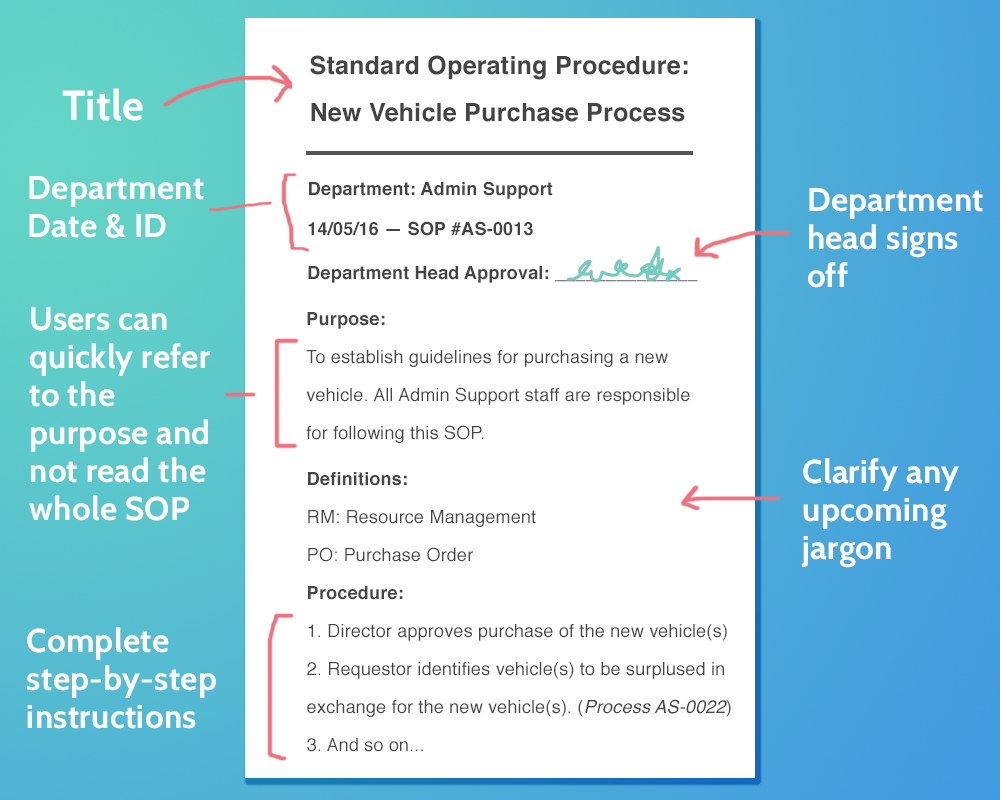 There's a much better way to use a document like this. A way that isn't passive, easily overlooked, or difficult to track. Instead of using paper, use Process Street.
Here's the same document written up in the app:
For every time this process needs running, the requester can go into Process Street and run a checklist. The department head can tick off task 2 if it's approved, and the whole process can be tracked effectively, start to end.
You can even add email templates into the task that can be sent off in one click to the right person:
And, like in the original where a certain member is assigned to the step, you can make sure that's set up by adding assignees:
Best of all, when it comes to updating it, you don't need to break into another ream of paper, load up on printer ink and run process updates around the office. You just need to edit the template and changes will be applied to all future processes.
When processes are run — when a new vehicle is purchased, for example — it's represented as a checklist, like this:
That allows you to run, assign and track with Template Overview every process you own — not just keep it sitting around in a filing cabinet, gathering dust and going out of date before it gets chucked out with the rest of the rubbish.
Think about it, what's better?
How to get started with automation
Hopefully, by this point, you understand the value of processes. Well, the next step is automating the processes.
Using integration for automation
Process Street has extensive integration, so you can automate pretty much all of your daily recurring tasks. Anything from saving Gmail attachments into Dropbox to shipping your Salesforce leads into MailChimp, you can use Process Street's Zapier integration to automatically handle the tasks that clog up your schedule.
Take a look at this example of integrating Process Street with Close.io to automate CRM data entry.
Example: automate your CRM with Process Street
This example showcases an integration between Process Street and the CRM tool Close.io.
Here's a quick video to break things down:
What's happening, is that Process Street is being used to run a checklist, in this case for client onboarding, where information about the new client is collected as the checklist is completed.
Now, when certain information such as a signed contract, or any kind of updated information is input into the checklist, an integration will automatically update the CRM with that new information.
Think how much time is saved by not having to input that information manually.
Check out the complete checklist below, plus more client onboarding checklists here.
Make your BPM software do the hard work for you
It's not like all a BPM tool does is store your standard operating procedures. It's also used for automating workflows. Traditionally, you'd have those automations running from an on-site server that links to your local network, like this:
Again, you can see it's not particularly neat and tidy. And running massive servers like that isn't an option for startups and small businesses, so there's thankfully another way. A way that involves the cloud.
Our process automation tool of choice (and one that works seamlessly with Process Street) is Zapier. While some apps have support for a handful of integrations, Zapier makes that functionality worthless by connecting over 1,000 apps together in potentially millions of different ways.
You can automate your marketing efforts by triggering emails and social shares. You can automate document creation and send those documents out to be signed. Zapier saved companies like yours over 14,000,000 hours last year by automating tedious work like data entry and transferal.
Want to learn more about how you can use Zapier? Get a free copy of our ebook, The Ultimate Guide to Business Process Automation with Zapier, and become an automation expert today.
We've created the perfect resource to get you saving time and money by automating your business' processes.
From basic tasks such as saving Gmail attachments into Dropbox to shipping your Salesforce leads into Mailchimp, the Ultimate Guide will guide you through setting up the perfect Zaps to automatically handle the tasks that clog up your schedule.
Plus, with Zapier's 1000+ integrated apps, chances are that your favorite programs are just waiting to be linked!
Better yet, it's completely free!
Click here to create an account in less than two minutes.
Have any questions that weren't covered in this article? Post them in the comments below.