Your user profile controls the way that you see and use Process Street, so it's pretty important.
Users: Admins, Members and Guests can all access the profile settings page. 
How to access your profile settings
To access your profile settings, simply click your profile picture on the top right of the header bar within the app. From the drop-down, click on 'My Profile & Settings'.
Profile Tab
The 'Profile' tab gives you access to all of the most important aspects of your settings.
From here, you can:
Change your photo by clicking on 'Change Photo' and uploading a new photo
Change your display name in the 'Name' field
Change your job description in the 'What I Do' field
Add and remove multiple email addresses (and set your primary address)
Reset your password
Update your phone number
Set your account's timezone
Show Beta features (these are new features we test out before going live)
Notifications Tab
The 'Notifications' tab allows you to control the email notifications you receive from Process Street.
Your notifications tab includes an option to opt in or out of daily inbox reminders of upcoming and overdue tasks. You can also opt in or out of all email notifications.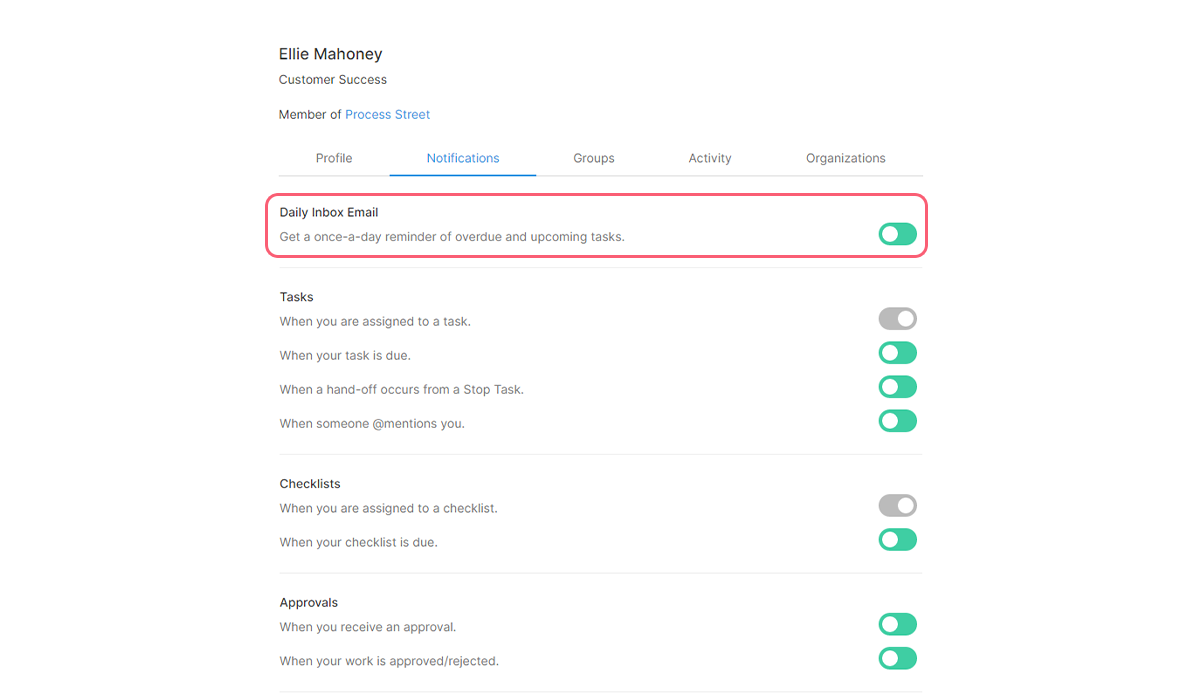 Groups Tab
The 'Groups' tab allows you to view all of the groups that you are a part of across organizations.
Activity Tab
The 'Activity' tab allows you to view all of your activity across all organizations, templates, and checklists. This is great for keeping track of any changes that you have made regardless of when or where they were made.
Organizations Tab
The 'Organizations' tab allows you to view all of the organizations that you are a part of. These can also be accessed by clicking on your profile picture and then clicking 'My Organizations'.
From here you can:
Create a new organization by clicking 'New Organization' (new organizations are on our 14 day free trial by default)
Switch the organization you're actively working in by clicking 'Switch' next to the organization's name
Remove an organization from your account (does not delete the organization) by clicking the bin icon next to the organization's name
---