Your organization management area is where you can invite members and guests, create groups, change your organization settings, set up integrations, view activity in your Process Street account, upgrade your plan and adjust your billing and payment methods.
Users: In order to manage your organization, you must be an Administrator.
Accessing your organization settings
To access your organization settings, click your profile picture in the upper right corner of your screen, then click "Settings". Once open, you'll be able to see a number of tabs as shown below:
Members & guests tab
The 'Members & Guests' tab gives you the ability to invite and remove Admins, Full Members, Free Members and Guests, to promote or demote users to a different user type, or to remove them from your account.
You can use the dropdown to search for or filter current Admins, Full Members, Free Members or Guests, as shown above.
To invite a full member to your organization, simply type their email into the 'Email Address' field provided and click "Invite". To invite a free member, check the "Invite as Free Member" box and then click "Invite".
To invite a guest, you first need to invite them as a free member, then demote them to a guest.
You can promote or demote users from guests to members, or members to admins and back again. Click the drop-down next to their entry and select the required user level, as shown above. You can also remove a member completely by clicking the 'remove user' icon next to their name, as shown below:
Please keep in mind that you are billed based on the number of full members and admins in your organization. On the Pro or Enterprise plans, if you already have 5 full members, you will be billed pro-rata for each new full member, at the point you invite them. Check your current subscription rate from your billing page to see how much adding a full member might cost. On the free plan, you can have a maximum of  5 full members.
Groups tab
The 'Groups' tab allows you to view all of the groups in your organization.
You can add a new group by clicking the '+ New Group' button. You can edit your existing groups by clicking the pencil icon next to the group name. When editing, you can change the group name, who is included in that group, or change your group profile picture. This is also where you will find the 'Delete' button to delete a group.
Learn more about creating and managing groups.
Settings tab
The 'Settings' tab allows you to:
Integrations tab
The 'Integrations' tab allows you to:
Note: The image above shows the default settings when you first create a New API or a New Webhook.
Activity tab
The 'Activity' tab allows you to view all of your organization's activity across all workflows and workflow runs. This is great for keeping track of any changes that your team has made.
The most recent activity shows at the top of this page. Scroll down and select "See older activities" to load more results.
You can use the dropdown shown above, to search for any deleted workflow or deleted workflow runs that you would like to restore.
Billing tab
The 'Billing' tab allows you to view and manage your organization's billing and subscription details.
From here you can: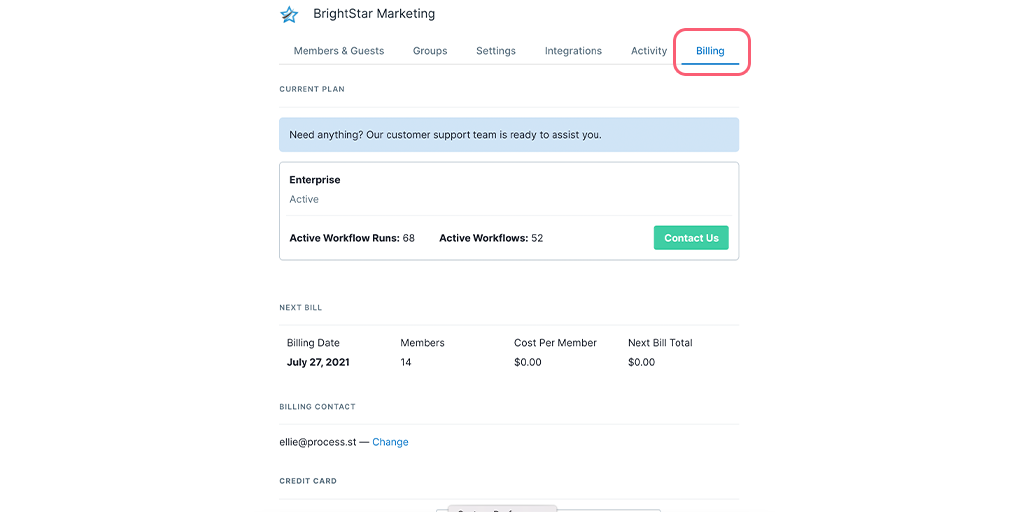 If you have any billing queries you can contact our support team from this page, by clicking the "Contact Us" button.
If you would like to delete your account in line with GDPR regulations, you can use the contact us button to request our team does that for you.
---