Guests are a great way to bring outside people (such as clients, customers, VA's or freelancers) into work with you on a single workflow run, or on tasks within workflow runs.
Guests can only see and interact with workflow runs they are assigned to, including checking subtasks, completing tasks, commenting, and adding attachments or files.
They will be part of your Process Street organization with very limited access and will be required to log in to access the tasks or workflow runs you have assigned to them.
Managing guests
Guests can be managed (invited, promoted or removed) from your organization management page.
Users: You need to be an Administrator in order to access the organization manager page and invite other users to your organization.
To open your organization manager, click your profile picture in the upper right corner of your screen, then click "Settings". You will be taken straight to your "Members & Guests" tab.
This is where you can manage all the users in your organization.
You can search for any current guests in your organization, by clicking on the "All Users" drop-down button and changing it to "Guests" as shown below.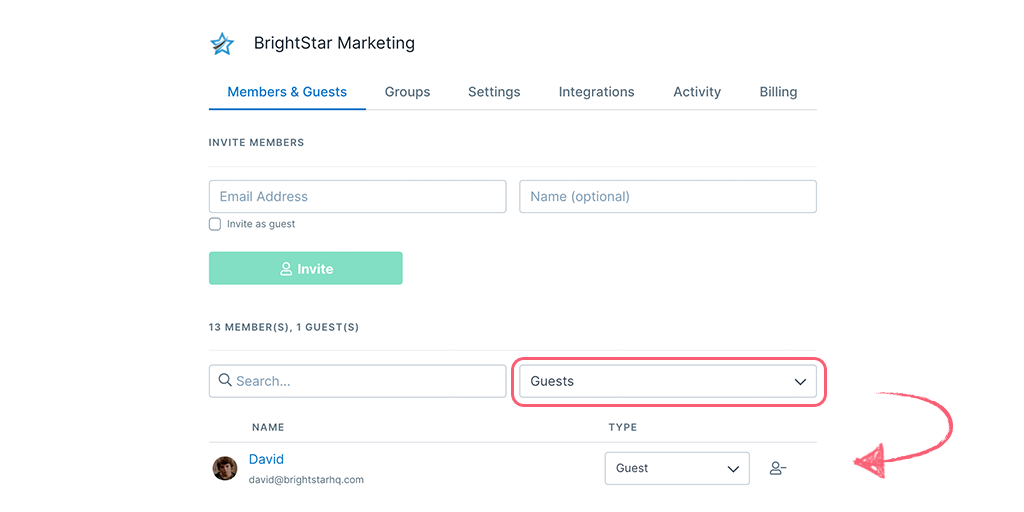 How to invite guests
To invite a new guest to work with you, type their email address and add their name in the fields provided. Next, check the "Invite as guest" checkbox and then click "Invite".
Adding their name is important so that you can identify them easily when they enter data into your workflow runs or when you assign them to tasks.
You'll receive a flash notification at the top of your screen to confirm that their invite has been sent.
Once you've added a new guest, you can share this article with them to help them get started using Process Street. It explains the basics of what they can see and do when they first log in.
Promote a guest
To promote a guest to "Member" status, click the dropdown next to their name and select "Member".
To promote a guest to an "Admin", select Admin from the dropdown instead of Member. You should only promote someone to an admin if you are happy for them to have full access to your organization.
Note: When you promote a guest to a member, they will no longer be a free user. When you do this partway through your billing cycle, you will pay pro-rata for them, based on your monthly or yearly subscription price.
Read more about the difference between guests and members.
Remove a guest
A guest can be removed from your organization entirely (and any workflow runs or tasks they are assigned to) using the remove user icon shown below.
Guest permissions
Guests are restricted to "can view own" permission only.
You can add or assign guests to active workflow runs, or to tasks on active workflow runs.
Guests are not included in the "All Members" default group.
You cannot pre-assign guests to tasks in the workflow editor, or to workflow runs when using the scheduling tool (you can only do this for members or admins). Guests can only be assigned to workflow runs or tasks once a workflow has been run.
Learn more about the difference between guest and member permissions.
You can also share your workflow runs and tasks with guests. Learn more about sharing.
If you don't need someone to be part of your organization or you don't want them to login to Process Street, you may want to consider sharing workflows or workflow runs with them as an anonymous user.
---