You can integrate Jira with Process Street checklists using Zapier.
Jira Software Server can record information about the bugs in your software, for example those discovered during a software debugging process.
The goal is to have the information gathered by the Process Street checklist automatically update an issue record in Jira Software Server.
Use case:
A software development team is starting a new project.
They are using Jira Software Server for bug tracking.
They are using Process Street to run a bug report checklist
Process overview:
We will set up a new Zap in Zapier.
We will set up the trigger to be a task checked in a Process Street checklist when the completed bug report is uploaded.
We will set up the action to add the completed bug report to an issue record in Jira.
Let's get started!
Preparing your Process Street checklist
You can either create a new checklist, or use an existing one, like this software debugging process.
The way this integration works is by using form fields in a Process Street checklist to record information collected in the debugging process.
Be sure to have some form fields ready to collect the relevant information in the checklist you're using.
Adding form fields in Process Street is as simple as dragging and dropping them from the widget bar on the right-hand side of the screen, like this:
You can call them whatever you want, just be sure they're clearly labelled.
Try to keep form field names short and unambiguous; you don't want to struggle to remember where that data came from or what it represents when you review the checklist later on.
Once that's done, you're all set to start automating with Zapier.
Make a Zap to update an issue in Jira Software Server whenever a bug report is uploaded to a Process Street checklist
Zapier is a tool that helps you use all of your common work apps together (it has over 1,000+ integrations!)
Zapier calls integrations "Zaps". They're made up of two main parts; triggers, and actions.
They can both be pretty much anything you can think of that you could normally do in the apps you're integrating.
To do anything with Zapier, you'll need an account. Sign up, sign in, and click 'Make a Zap!'
Adding Process Street as the trigger
In your new zap, select Process Street as the trigger:
Set the trigger to be "New Task Checked":
After you have configured which template and task it applies to, select Jira Software Server as your action.
Adding Jira Software Server as the action
Click "Add a Step" and choose Jira Software Server as the app:
Then select "Attach File to Issue" as the action: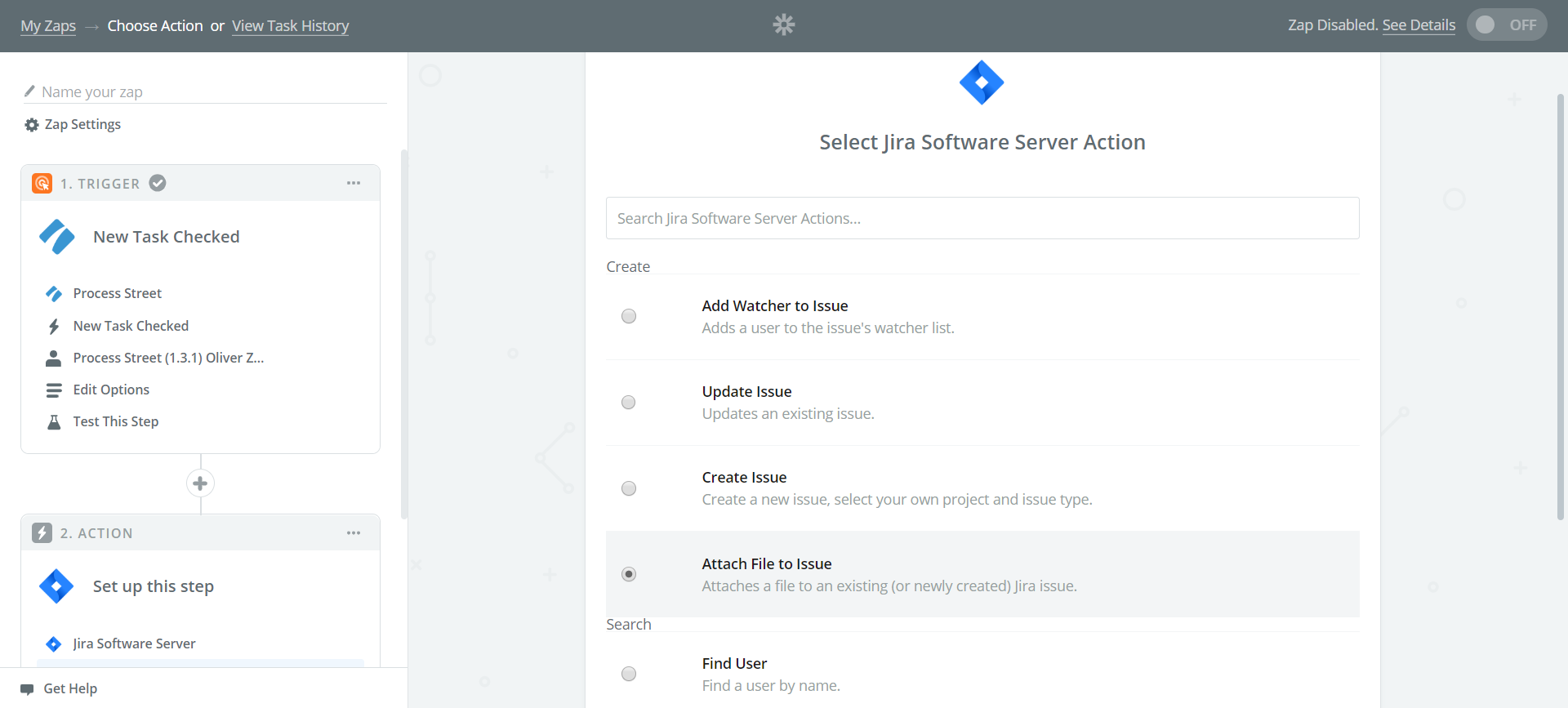 Hit "Save + Continue" and proceed to link your Jira account with Zapier.
Once your Jira account is linked, you'll need to reference the fields in the Process Street checklist that contain information about what you're sending (in this case a debug report in the form of a PDF) and where you're sending it (the ID of the issue in Jira Software Server).
Fill in the fields and click "Continue":
All that's left now is to test the Zap is working.
Testing and activating the Zap
On the next page, you'll find a button calling you to "Send Test to Jira Software Server".
Click this button to receive confirmation that the Zap is working: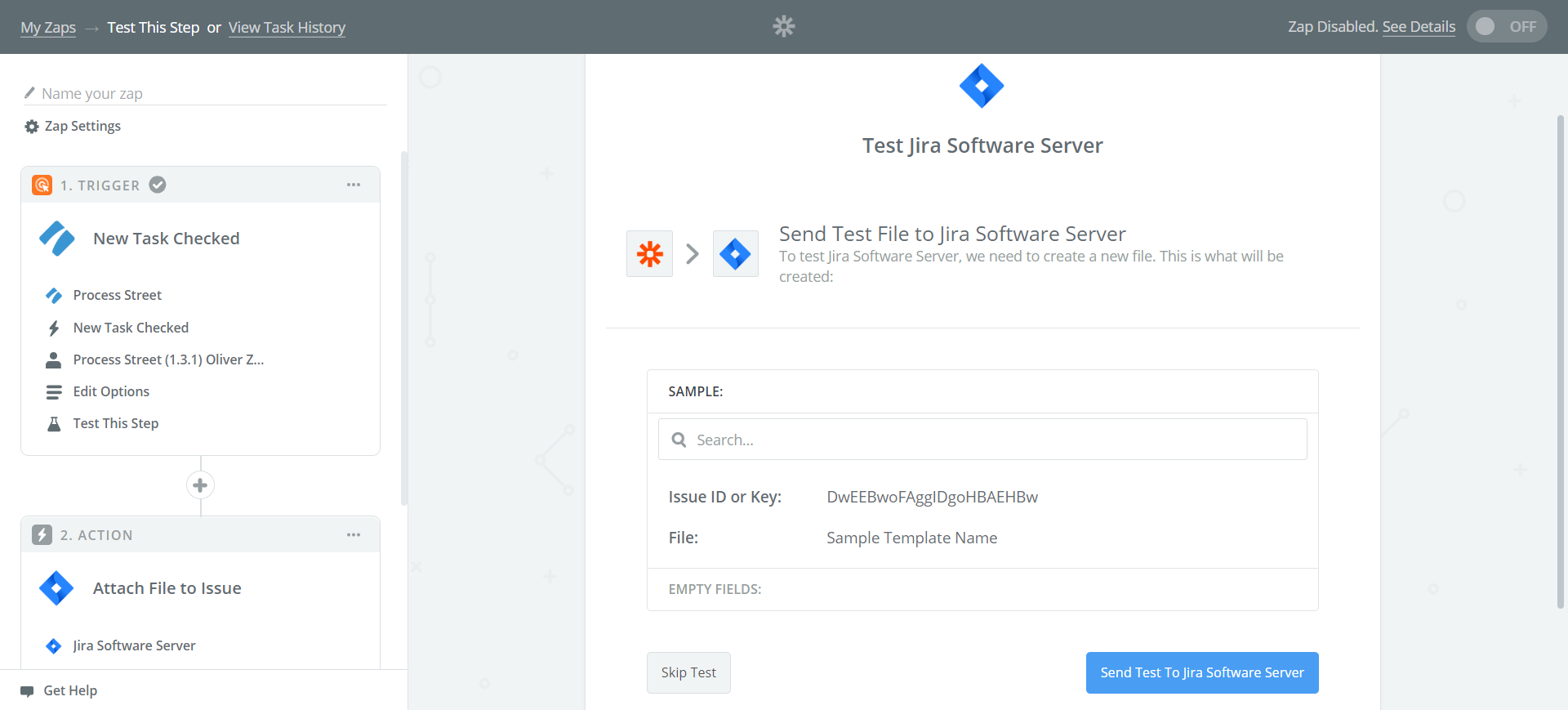 If you did everything correctly you'll be greeted with a nice green confirmation message.
Now you can hit "Finish".
All that's left is to be sure you give a name to the Zap, and turn it from "OFF" to "ON".
Congratulations, you now have a working integration between Jira and Process Street!