Task Permissions allow you to hide specific tasks from different users to make your checklists more private. You can also use task permissions to just show users what they need to focus on.
You can control the permissions for:
All Members within your organization
All Guests
Anyone accessing a checklist through a Share Link
Individual Members or Guests
Note: Task Permissions are a feature on our Standard Plan.
Permissions explained
When creating your templates, you can select a permission for each task via the permissions options at the top of every task inside of the template editor.
If the permission is on (green) for your members and guests, that means that tasks will be visible to those users.
If the permission is on (green) for the checklist share link, this means that any user accessing the checklist via the share link will have visibility of that task. This is a great way to pass along specific tasks to external users, like your customers.
Setting general permissions
You can customize the permissions with any combination that you'd like.
In the following example, the permissions are turned on for members & guests, but off when viewing the task via the checklist share-link.
This means that the task is visible to your members and guests but hidden when viewing it via the checklist-share link.
Below, we have the permissions on for only members. This means this task is visible to all members but hidden from our guests, and when viewing it via the checklist share link.
You can create any set of permissions that you'd like to give visibility to different users.
User specific permissions
You can select to give individual members permissions on tasks.
If you'd like to hide the task from all members, but give specific members access, turn off the all members permission. You can also turn off the permissions for your guests and via the checklist share-link.
and then add your individual members accordingly.
Role-based permissions
You can also set permissions based on a role. For example, you can give permission to the person who creates the checklist, any email form field, like a new employee, or the 'HR Assistant' role within your company using the Members field. Learn more about roles, role assignments and the members field.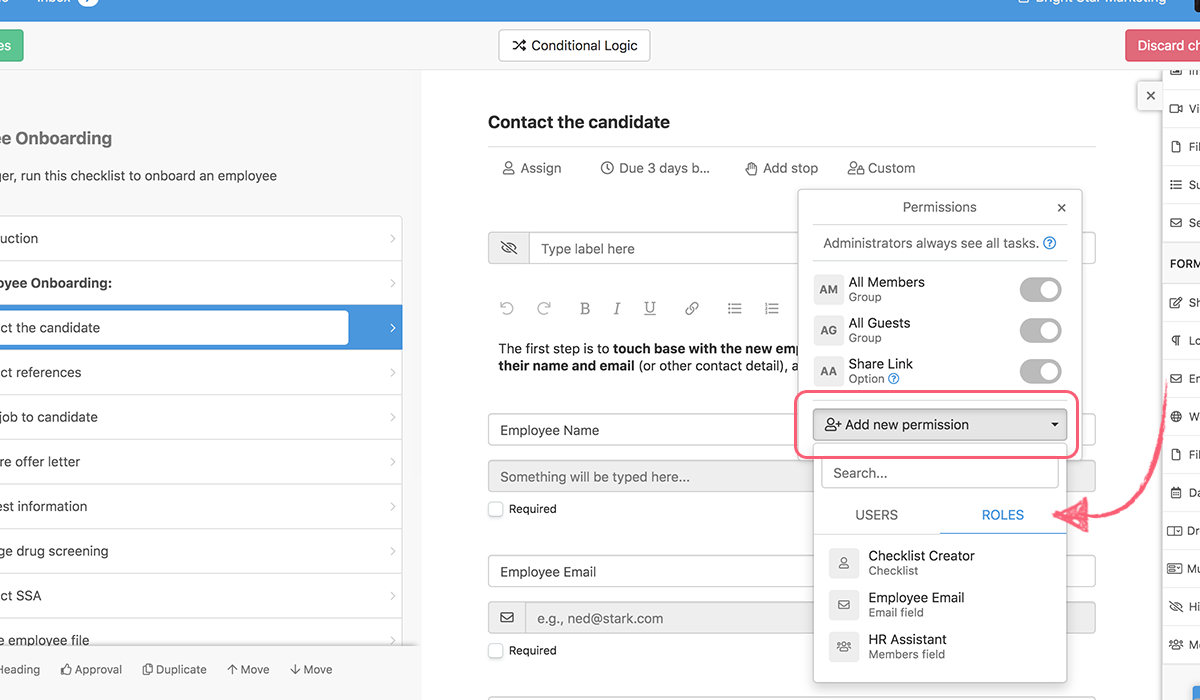 It is important to keep in mind that Admins will always have access to view all tasks inside of a checklist. It is not possible to restrict their permissions.
Learn more about user permissions.
---