When you share a workflow run via a share link or a run link, anyone working on it and filling out information becomes an anonymous user.
Instead of seeing their user name as you would with Members or Guests when these users take any action in your tasks or workflow runs, they show as "Anonymous".
They don't need a Process Street account to be able to fill out form fields, check off tasks, leave comments or add attachments.
Users: Full Members can create share links for workflow runs. Admins and Full Members with "edit" permission can create workflow run links.
Common use cases
There are many use cases for collecting information anonymously from people. Here are a few examples:
To capture feedback in customer surveys
To capture contact details for new sales leads
To take references for an employee you'd like to hire
To onboard a large number of new recruits to your company
You can capture an anonymous user's name and contact details inside your form fields so that you can identify who they are if needed.
What can anonymous users do?
Anonymous users have the most restricted access of any users in Process Street. They can:
Fill out Form Fields
Complete Tasks
Complete Workflow Runs
Change the Name of a Workflow Run
How anonymous users appear in your account
Anonymous users' appearance varies slightly, depending on where you look in your account as per the examples below.
On completed workflow runs in your Reports area, their profile icon shows as a grey circle with the initials "AN".
In task comments and when a task has been completed, like this: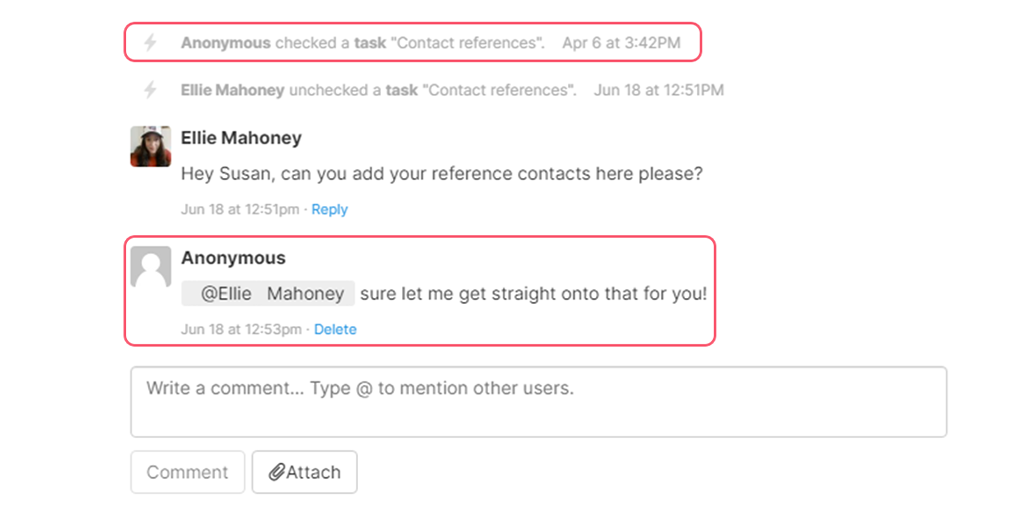 And in your workflow run activity feed, like this:
What's the difference between anonymous users and guests?
Anonymous users would more than likely just be using a workflow run once, to fill out the information.
Guests, however, are part of your organization and might be people who you need to fill out workflow runs on a more regular basis. If you want to track a person's progress when they're working on tasks, then you'll want to invite them as a guest.
Guests are required to log into your account, whereas anonymous users are not. If you require users to login for security purposes, you can either invite them as a guest or free member.
Are there any limits for the number of anonymous users?
No. This means that you can share your workflow runs with hundreds, if not thousands, of people.
Read more about the different types of user permissions and how to set user permissions.
---