Your Library is the place where you can create, see and manage all of your workflows in one place, and any folders that you have created to store them in.
You'll also find links to your workflow runs from the folders or workflows they were created in.
Users: Admins and Members can see the Library, while Guests cannot. All permissions you have set previously on workflows and workflow runs will apply when viewing the library. 
How to use your Library
Inside your library you can:
Let's take a look at some of the features and functions within your library. First, navigate there via the button at the top of your screen:
Create workflows
Click the "New" button in the top left of your screen. This opens up the gallery where you can select from hundreds of premade workflow templates.
You can also create a "New Blank Workflow" via the button at the bottom of the gallery, which allows you to build a workflow from scratch.
Create folders
To keep your workflows organized, you can create folders and move your workflows into them.
To create a new folder, click on the cog next to "Home" at the top of your screen, as shown below.
Next, select "New Folder", give your folder a name and click "OK" to finish.
This creates a new folder in your main view. Refresh your page to see your folders in alphabetical order.
Create sub-folders
To create folders-within-folders (or sub-folders) first click on the name of the folder you'd like to create a sub-folder in.
Next, click the cog next to this folder's name at the top of your screen and select "New Folder".
Give your sub-folder a name and click "OK" to finish.
Manage folders
Once you have created all the folders you need, you can manage them or assign users to them, by clicking the cog next to each folder's name.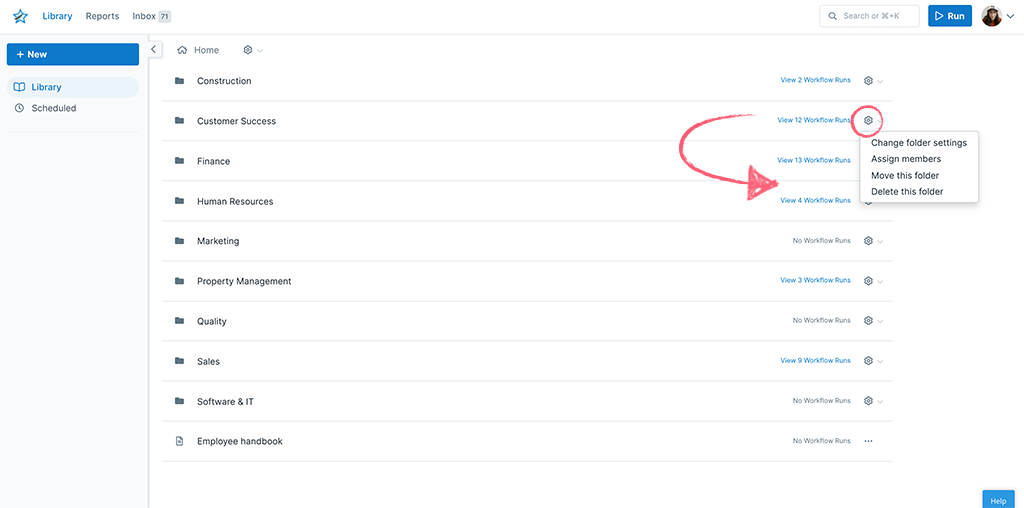 Keep your workflows organized by moving them into your folders.
View workflow runs
To view any of your workflow runs, click the blue link shown below, next to each workflow's name (or next to each folder's name).
These links will take you into your Reports in a filtered view for those particular workflow runs.
Scheduled
To create or manage scheduled or recurring workflow runs, click on the "Scheduled" button from the left-hand menu.
Workflow tags
Tags act like shortcuts to your favorite workflows.
If you have assigned tags to some of your workflows you will see them listed in the left-hand menu.
Click on a tag to view the workflows you have tagged it with.
---