There are many ways that Process Street can help you streamline your Real Estate or Property Management business, including workflows for staging and listing new homes or handling property sales, to tenant and landlord on/off-boarding, property maintenance and cleaning to name a few.
In addition to workflows, Pages allow you to document, store and share your team's process and operational knowledge. Pages sit in the same library as your workflows, so standalone documentation can live alongside interactive workflows.
Check out some great workflow examples in our webinar with Alarca Realty, and discover how they use Process Street to help manage their business.
Workflow templates
We have hundreds of ready-made, ready-to-use workflow templates that you can access when you're logged into Process Street.
Start from your Library and click the "New" button then select "Workflow" to open the template gallery.
The example below shows a search for workflows containing "Landlord". Hit your space bar in the search box to scroll through all the templates.
Learn more about the Workflow Gallery and using premade workflow templates.
You can also build your own workflows from scratch, by selecting "New Blank Workflow" from inside the template gallery.
Customize your workflows
You can edit and build lots of extra features into your workflows. This not only helps streamline how your processes (and therefore how your workflow runs function) but also lets you collaborate more effectively with other people.
Create saved views for reporting
You can create saved views for each of your clients, properties or tenants in your Reports area. This allows you to quickly find and review the progress of any workflow runs that you are working on.
For example, you might want to:
Track how many tenant move-ins you have in play
Review where landlords and owners are in your onboarding process
Monitor the progress your maintenance & repair team is making
Check the number of end of tenancy cleans required for move-outs
Create property-specific views where you may have more than one process in play
One great way to create views like this is to select one workflow from the dropdown menu in your reports dashboard. In the example above we've used our Tenant move-out process for one saved view and the move-in process for another.
Another is to use the filters to set a naming convention for your workflow runs, which will allow you to search and filter them when creating saved views. For example, you could use the convention that you always include the client name or property address as part of your workflow run name.
Pages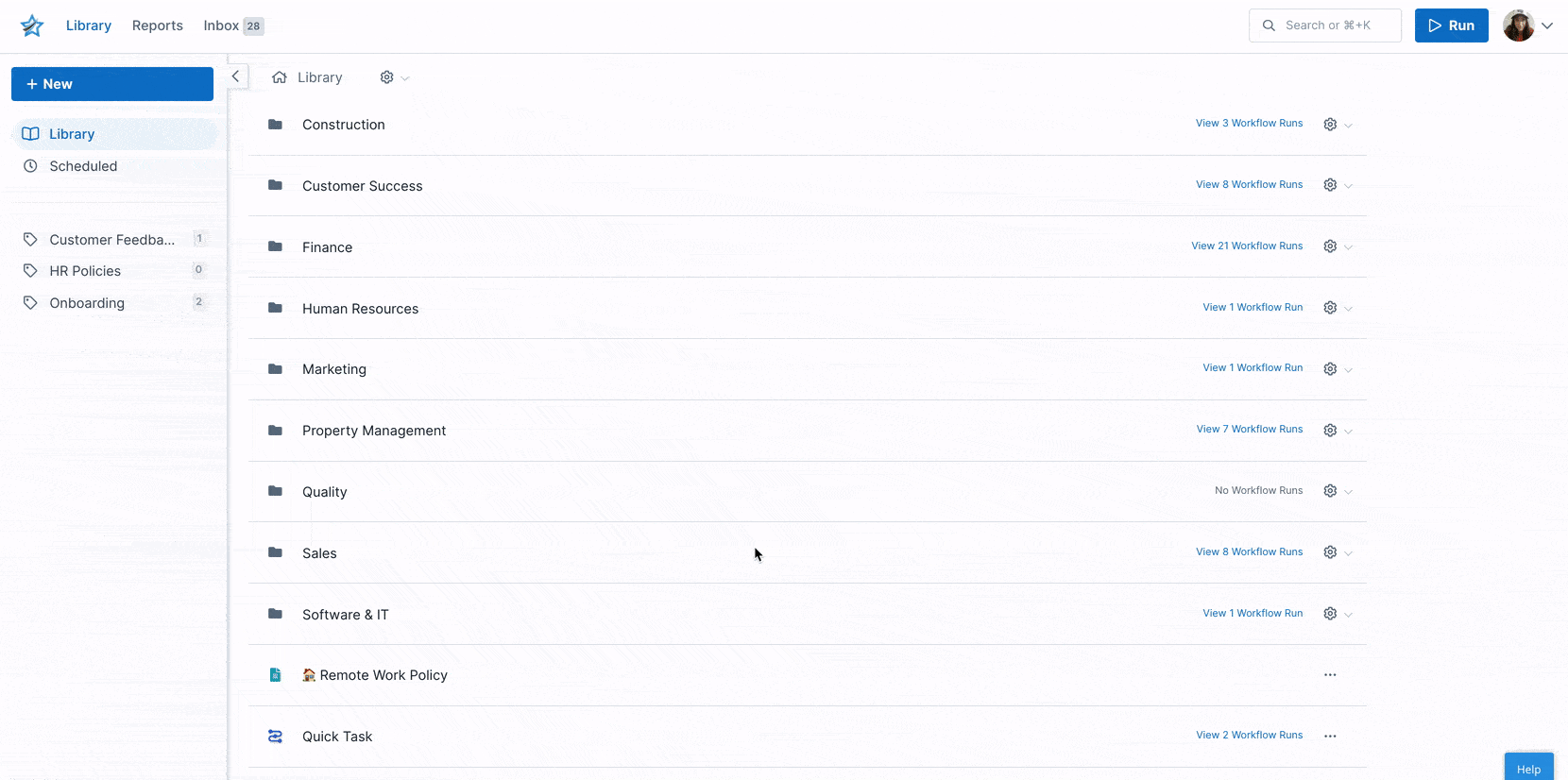 You can create and share Pages with your whole team, free. They can be invited as free members to your organization, and granted access to either view only or create and edit your Pages.
Better still you can link to Pages from your workflows and from your workflows to Pages, for easy access.
Sharing & collaborating
You can easily share workflows, workflow runs and Pages with clients or landlords and invite them to work with you on them, or view them.
This is really handy when you'd like to have them fill out workflow runs or tasks themselves, or if you're working on a process together, you can send it to them to review.
For some use cases, your clients will need to be part of your organization (a full member, a free member or a guest) to view your workflows and workflow runs, or Pages.
In other cases, they don't need a Process Street account to complete tasks or workflow runs. These users are classed as "Anonymous" and they can only interact with your workflow runs in a very limited way.
Learn more about how you can collaborate with others, as well as the various ways that you can share your processes with them. Discover the different ways you can collaborate in the webinar below.
Extra resources
You'll find some great advice on a variety of subjects in our Blog. We've collated some of these below which we recommend you check out, not just for the great content but because many of them include bonus workflow templates that you can use.
Real Estate
Property Management
Case study
How Alarca Realty Replaced Spreadsheets with Process Street to Streamline Property Management
The example workflow templates below are also ready to use, for Real Estate and Property Management processes. Click on "Edit checklist" to create a copy of these workflows in your organization.
Real Estate workflows
Property Management workflows
---